| | |
| --- | --- |
| Weeki Wachee River | |
Difficulty: Basic to Advanced
Scenery: Very Good
Location: Weeki Wachee,
Hernando County
Distance: From 4 to 16 miles depending on tour selected
Atlas: Page 76 D-3
Last Update: May 2006
Canoe OK: Yes
Description
You probably first heard about Weeki Wachee because of its famous commercial attraction, Weeki Wachee Spring and Buccaneer Bay. Shows are held 16 feet underwater, featuring young women as mermaids performing children's storybook tales. The performances are interesting, the mermaids are beautiful and the park definitely worth a visit, however, the spring and river are what makes Weeki Wachee truly special.
Weeki Wachee a first magnitude spring discharging over 64 million gallons of crystal-clear water a day. Along the river an observant paddler will see many types of animals including the famous Florida (West Indian) manatee, alligators, raccoons, otters and numerous birds. It's easy to spot ducks, ibis, pelicans, herons, osprey, wood storks and cormorants. Approximately 8 miles later the Weeki Wachee River meets the Gulf of Mexico near the small village of Bayport.

| | |
| --- | --- |
| Lazy Days on Weeki Wachee. | Since the opening of the canoe outfitter at the head springs, Weeki Wachee is very popular and can be crowded, especially weekends. Go during weekdays and you will be much happier. To help reduce congestion on the river, it is my sincere hope that one day Hernando County commissioners will limit power boat traffic on the narrow upper section of the river. |
Access
There are a number of different put-in locations available, depending upon your skill level and endurance. The first (and easiest) is provided by a canoe and kayak outfitter located next to the Weeki Wachee Spring attraction on the corner of US 19 and Florida SR 50. The next two put-ins are several miles west of US 19 on SR 50.

Important Items
Boat, Paddle, PFD
Put-in fee for downriver-only trips
Rogers Park Entrance Fee, $2
Parking at Weeki Wachee Spring, $3
Environment
First Magnitude Spring
Freshwater River (upper river)
Saltwater Marsh (lower river)
Cypress, Oaks and Palm trees
Many animals including Manatee

Tour #1: Weeki Wachee to Rogers Park (6 miles - easy)
This downriver-only trip begins at the canoe and kayak outfitter located immediately south of the Weeki Wachee Spring attraction. You can either bring your own boat or rent a kayak or canoe. The trip usually takes between 3 and 4 hours, depending if you stop for lunch on the way to Rogers Park.
Fees: If you bring your own boat, the launch fee is $7 and a return shuttle is $15 per boat. If you decide not to use the outfitter's shuttle, leave a car parked at Roger's park for your return trip. Prices current as of May 2006.
Starting at the canoe outfitter, you can paddle about 200 yards upstream to where a sign in the river indicates no vessels can proceed past that point. The "Wilderness Cruise" boats from the Weeki Wachee attraction are docked here. The tour boats may be your companion for the first 1 1/2 miles of the river. Fortunately, they are electric and generally well-behaved.
Turn downstream and paddle approximately 3 miles to reach the first beach. This, and a second beach located about 1/2 mile downstream, have undergone much development in the past few years. Both are property of the Withlacoochee Wildlife Management Area and a $3 landing / access fee applies. At the top of the 15' tall sandy terraced bluff are picnic tables that make a nice place for lunch. Expect crowds at both beaches.
About one mile past the second beach you will reach a developed area with canals. Be sure to go left at every junction in the river. Rogers Park is on the south side of the river just before the SR 595 bridge. If you have rented canoes or kayak, your takeout will be near the Weeki Wachee Christian Camp. Call the shop and they will retrieve you and the boats. If you brought your own boat, you'll need to use your shuttle vehicle to get back to the canoe outfitter.
Tour #2: Bayport to Rogers Park (4 miles - medium)
This mostly saltwater tour begins 10 miles west of US 19 and SR 50 near the village of Bayport. Now a waterside park with fishing pier, this port of access was originally used to export cotton, farm produce and timber during the mid-1800's. A historic marker located at the park says Bayport was an important trade route during the War Between the States and Bayport attracted attention of the Union Blockade Squadron and blockade runners alike.
To begin, follow SR 50 until the road dead-ends in a county park. Parking is free but usually crowded on weekends. It's recommended to put-in at the boat ramp as other areas have oyster bars and lots of mud. The river tour from Bayport to SR 595 is medium in difficulty as the river is influenced by the tides.
Start paddling south along the roadway and turn east (left) at the main river. At this point, the Weeki Wachee River is about 150 yards wide where it enters the Gulf. The water can be a bit rough depending on tidal conditions.
Continue paddling east-northeast for about 1.5 miles until the river narrows considerably at a housing development. Follow the left split to avoid the bulk of the development. About 1/2 mile after encountering the development, the Weeki Wachee River passes under SR 595. Just beyond the bridge is Rogers Park, a 3-acre park complete with boat ramp, swim beach, restrooms and soda machines. Continue paddling 6 miles up river to the Weeki Wachee Spring if you want to make a 16 mile trip. Otherwise backtrack to return to the boat ramp at Bayport.
Tour #3: Rogers Park to Weeki Wachee Spring (12 miles - advanced)
Starting at Rogers Park (7244 Shoal Line Blvd.), the river narrows considerably and its twisty curves and swift current can prove to challenging even for advanced paddlers. To add to the challenge power boat traffic can be annoying and sometimes dangerous. Be sure to allow for up to 6 hours to make this trip.
From US 19 and Florida SR 50 travel 5 miles west to SR 595. Turn left and go two miles. Rogers Park is located southeast of a bridge crossing the river. A nominal fee is charged for parking. Starting at the boat ramp, paddle north to the main channel of the river and turn east (up river). The current is quite swift and the 6 mile paddle up-river will be a challenge. Be careful as you navigate turns in the river to avoid taking an accidental swim or running into downstream boat traffic.
The first two miles of the trip pass through a developed area with housing on the north side of the river. As you approach the half-way mark, you'll find two small beaches (about 1/2 mile apart) that make a great lunch stop. Many small fish can be found here and they will surly enjoy any breadcrumbs that make their way into the water.
At 4.5 miles, the river enters property owned by Weeki Wachee Spring and Buccaneer Bay. During the 1990's, the company kept a few zoo animals and injured bird recovery area along the river. Watch for large sightseeing boats along this stretch of the river. Continue east to reach Weeki Wachee Spring. You will not be allowed to dock here and all areas along the river are private property. Take a well-deserved break and proceed downstream for 6 miles to return to the park.
Special Interest
September 2003 - Weeki Wachee Spring (the amusement and water park at the headsprings) was threatened with permanent closure if it couldn't make repairs and return to profitability.
Land owner Southwest Florida Water Management District (aka SWIFTMUD), may close the attraction and replace it with a State park. In August 2003, Weeki Wachee Spring was donated to the tiny City of Weeki Wachee (pop. 9) by the former private investment group after it failed to find a suitable buyer. The City, in an attempt to save America's last live mermaid attraction is asking for donations to under its "Save Our Tails" campaign. See weekiwachee.com for more information.
More Weeki Wachee News - March 2006 - After being tied up in court for the last two years, Weeki Wachee Spring and SWIFTMUD were ordered to mediation regarding the property lease and some apparent dredging operations conducted by the park. Stay tuned for more information on this long standing feud and be sure to support the mermaids by visiting the park in 2006.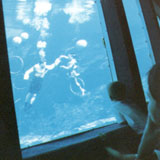 For those who prefer to view the magnificent Weeki Wachee Springs without the effort of paddling, you can try the Weeki Wachee Spring and Buccaneer Bay attraction. Located on the corner of US 19 and Florida SR 50, this park was founded over 30 years ago by US Navy frogman Newton Perry. He created an underwater amphitheater where young ladies dressed as mermaids act out various plays such as Hans Cristian Andersen's Little Mermaid and The Disney movie Pocahontas. It's amazing to see the performers remain underwater for 25 minutes without SCUBA gear. The park also features a Wilderness River Cruise, where visitors can stay high and dry while visiting the upper 1.5 miles of the Week Wachee River. Also located in the park is Buccaneer Bay, a water park with several slides, beach area and "river float trip".
Manatees
The Florida Manatee (more specifically west Indian Manatee) is a marine mammal that is grayish brown in color, can grow to 13 feet in length and 2,000 pounds in weight. Manatees spend most of their time feeding, resting and playing in warm coastal waters, bays and rivers.
Manatees are sometimes called "sea cows" because their preference for eating aquatic grasses. Perhaps they should have been called Sea Elephants, as their closest living relative is the elephant. This endangered species, is found in both salt and fresh water. Approximately 2,500 animals remain in the wild.
| | |
| --- | --- |
| Florida Manatee | Paddling to Bayport-lower river. |
---
Map

GPS Location Aid


Description

Latitude
Longitude
Weeki Wachee Spring
No docking
N28.31.146'
W82.34.465'
Beach/Picnic Area
Sand bank
N28.31.617'
W82.35.877'
Rogers Park
Boat ramp
N28.31.908'
W82.37.595'
Mud River
Confluence with WW River
N28.32.128'
W82.38.378'
Bayport
Boat ramp
N28.32.174'
W82.38.981'