| | | | |
| --- | --- | --- | --- |
| Report By: | gbailey | Date: 4/8/2006 | |
| Rating: | | Photos: See 1 photo | Map & Directions: View |
| | |
| --- | --- |
| | Nassauville to Bird Island |
My Report:
by Greg Bailey

We've done this trip a few times now, yet it is always interesting, with every trip turning out differently. Sometimes we sail back north with the sea breeze pushing us along, other times we dodge fast moving thunderstorms. This one started out very routine and appeared as if it might finish up that way, except for the final half mile crossing of the Nassau River. By the time we left the river behind and walked up the bluff, it may have ranked very near the top of our 'best trips' list.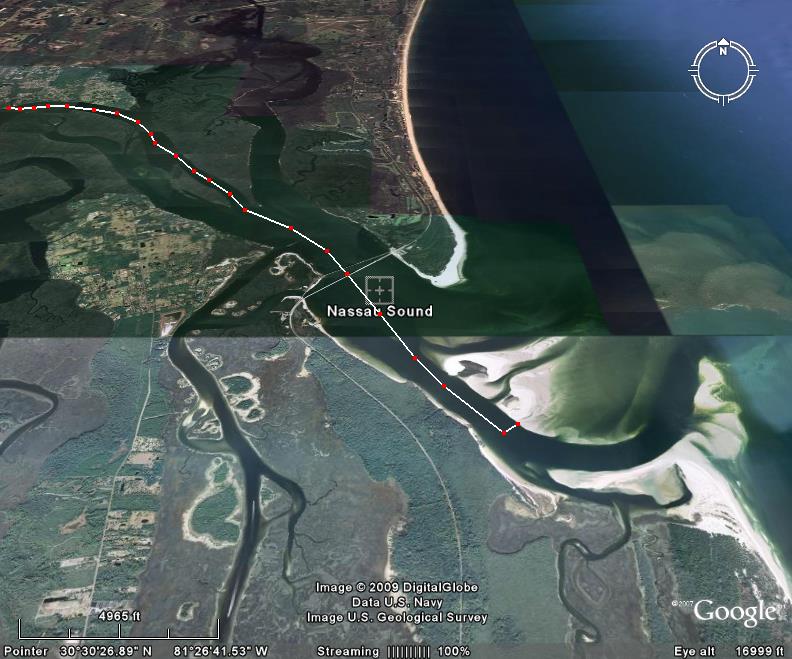 The seven of us paddled south down the Nassau River, through Nassau Sound and out to the ocean's edge to Bird Island, with moderate winds from the west. The paddlers were John McNeil, paddling an Impex Currituck, John Bowman paddling his Prijon Barracuda, Gus paddling his QCC 500, Martien paddling a Feathercraft folding kayak, Doctor Bob paddling his custom hand built Ocean One Storm and Franklin and I in my Wilderness Systems Skookumchuck (a composite tandem). Beautiful day all around. The strong currents soon had deposited us on the snow white sands of Bird Island, after streaking underneath the A1A bridge pillars and dodging the fishermen's dangling monofilament. We took a leisurely lunch (folding arm chairs and coolers) and walked the sand dunes for a short while but were soon forced off our beach by the incoming tides. We had picked one of the lowest points on the island to call home. Whose idea was that, we all asked, as the boats one by one began to float away across the now flooding hard packed sand? Franklin and I had to work fast as we organized our soon floating boat. We left that part of the island as it quickly disappeared underneath our feet. Within a few hours another 6.5 feet of water would cover that same spot! We headed back north with the incoming tide, winds increasing to 15-20 mph, with gusts to 30 mph. Due to the developing winds we decided not to venture around the outside of Bird Island and just keep to the safer inside route. It was a good move too. Two of our paddlers struggled a bit with the winds on their beam, until Franklin and I pulled alongside them and explained the finer points of paddling along the lee shore! Franklin and I were sitting pretty in the Skookumchuck, a 21.5' by 32" rockered, open water tandem, very stable, fast and comfortable. As usual, John McNeil and Dr. Bob were just cruising along, occasionally tempting us to a sprint. Franklin repeatedly wondered "out loud" if they liked the look of the backside of our PFDs!

As we neared the last 1/2 mile and before we made our last turn heading home, the winds increased a bit more. The winds were still from the west but now coming straight down the Nassau River and against the incoming flood tide. At this section of the river, the fetch was over three miles and Franklin later took wind gust readings of forty mph! I would call that a fresh breeze. We could see whitecaps the entire final stretch along with streaked water and foam trails. We underestimated the wave heights just maybe a little (What we thought would be waves of two to three feet ended up more like four to five feet and would be on our portside beam as we crossed to the far bank. The addition of the gentle breeze offered another reason to yet brace). Before our final river turn to glory, Franklin and I had offered the front seat of my tandem to anyone not excited about the opportunity of making this crossing, but as expected, we had no takers. If only we knew what really lay ahead! So we moved on to the last point before entering the wide open river. Very quickly we approached then zipped across a ripping shallow sandbar and breaking waves. Upon exiting the sand bar "bang" the waves just jumped up, four feet steep and tight with the tops breaking over us because of the strong winds. Franklin and I shouted out in excitement as we hit the first big breakers right at the close shore. Where did that come from? We were after all in the Nassau River! The winds were probably 25+ mph and steady at that point. With spray flying everywhere, the Skook took no prisoners! But we were immediately worried about the others, so we kept our eyes on John B. and Martien as we slowly ferried across the river. Although there were several close calls and even with the use of the rarely practiced and little understood "sky brace", also sometimes called the "air brace", we all made it across! There were multiple large sets of 4+ footers ripping by on our beam side and later on our stern as we turned the boat slightly toward the east. Once we made it across with Martien and were out of the main channel where the largest waves seemed to be concentrated, we turned around and headed back to watch the others. John McNeil was escorting John Bowman across but we couldn't see Dr. Bob anywhere. Franklin thought both Gus and Doc decided to paddle further up the river so that they could then turn around and ride waves all the way back. It was a great idea! We should have done that too. However, now with the raging wind, breaking whitecaps and spray everywhere, we knew we had to find them, so we paddled back into the wind and up river in the direction that they were last seen. Gus soon paddled happily by us in his skegged QCC 500. After waiving to Gus, we turned our attention to Doc and we both began scanning either side of the river as we paddled. We made our course right smack down the middle of the stirred pot. We made good time into these gentle headwinds (the combined thirty to forty mph winds added to our six mph cruise made talking to one another a shouting affair). Franklin later told me that often the bow would completely pierce a wave and a foot of water would smash violently into his body. He would then launch off the top of the wave and try and help brace the boat by quickly putting his paddle back in the water vertically. He only grabbed air as half of the 21' boat would go air borne. After about 25-30 minutes of blasting thru the slop (which was quite fun by the way), we spotted Doc on the lee side of Nassau River, briskly paddling away from our takeout point! It took us another 5 minutes to catch him, as he was still paddling hard and didn't look like he was going to let up any time soon. After a few mild navigational jokes and a minute to rest (for Franklin and I anyway, the Skook was a paddle in your lap, lean back and relax kind of boat) while Doc was bobbing and tossed around, we reversed our direction and headed downwind against the incoming flooding tide. Now, with the "fresh breeze" at our backs, we realized we were in for another sort of wild ride. The winds were still pushing hard against the tide and we again had some very large tight steep sets passing by us. We were having as much fun as possible while trying hard not to go too fast and out distance Dr. Bob. We wanted to be there for him in case he had problems with the heavy following seas (he never did). Several times Franklin said he was looking straight down at the front of 4-5 foot waves and was actually sitting out over them, just air straight down from his cockpit to the bow. On other occasions Franklin forced us to ride waves, his fast, strong strokes with the Epic wing paddle pushing us nose down into the trough. In the steep tight chop the big tandem would sometimes broach. I would laugh to myself as I watched Franklin reach far out away from the boat at 90 degree angles and low brace. I guess seeing only a skinny boat in front of him and his history with paddling only very skinny (paddle brace or face brace) boats made him think there was a need for such an effort! The boat was never challenged and was actually in its element. It was obvious why charter companies like these big tandems. They are great support and rescue boats. Multiple times we were told by the others that they felt better knowing the tandem was close by. Yes, the Skook was rock solid and I never felt the need to rudder steer or brace for any reason other than just a natural reaction. As we got closer to the takeout we noticed that John McNeil had also headed back out looking for us all. He had paddled back out through the roughest stuff and after spotting our little caravan on its way back, was now following us back in. The winds and waves were so heavy we never saw or heard him as we passed each other on the river. Franklin noted how proud he was to be a part of this club. That we had so many members capable and with the fortitude to go out in these conditions to make sure we all get back safely and that we were all okay. We went to look for Doc. John came to look for us. We all paddled back to shore together with forty mph winds at our back and four to five foot waves pushing us hard. There we were! Although we were all tired and wet after paddling over twenty miles, you never saw such faces. We were all beaming! We did it! This will be a moment the seven of us will share forever. Although I am sure we will tell many, few will get it! But we were there!

We are proud in this accomplishment, another great paddle with the Florida Sea Kayaking Association.

In the end I believe that Gus, Martien and John Bowman said those were the biggest waves and strongest winds they had ever encountered. I'm not sure about the others. With our club's emphasis on safety, proper equipment and rescue abilities (practiced often), we were prepared, John with his tow rope at the ready and the Skook standing by.


Location Data:
| | |
| --- | --- |
| Distance (miles): | 16 |
| Fees/Costs $: | n/a |
Post Date: 2/28/2009
Notice: Reported conditions may change and there may be errors in this text. Florida Sea Kayaking Association and author(s) of individual reports shall not be held liable for any omissions and inaccuracies contained herein. Readers are cautioned to supplement reports with other sources of information when planning a trip.