| | | | |
| --- | --- | --- | --- |
| Report By: | gbailey | Date: 6/11/2003 | |
| Rating: | | Photos: See 1 photo | Map & Directions: View |
| | |
| --- | --- |
| | Gasparilla Island across Boca Grande Pass to Cayo Costa (Part 1 of 2) |
My Report:
by Greg Bailey

The drive from Jacksonville was supposed to be approximately 320 miles and my trip odometer was reading dead-on 300 when we started to cross Gasparilla Sound's causeway. Seeing the emerald green waters of the Gulf of Mexico confirmed that our departure point was nearing, that being Boca Grande Pass on the southern end of Gasparilla Island. The island is mostly private with a gated entry and fee required and a few small public parking areas for beachgoers. We drove the short length of the island, past the old non-functioning lighthouse and pulled into the State Recreation Area's entrance. After paying our multi-day parking fee we headed to the far end of the parking lot for our first look at the pass. As Gus and I soaked in the view a friendly Lighthouse Park Ranger, Rick was his name, came by to tell us to park inside the museum's fenced parking lot, identifying our vehicles properly to ensure they were still around in three days. Soon Phil and Mel arrived and we had the boats and gear loaded and perched at the water's edge. Where's Dave we all wondered. We couldn't wait much longer and still make the slack water time for the ¾ mile crossing to the island of Cayo Costa. At almost the last moment he arrived and soon we were all standing on the beach ready to paddle. It was quite a site with maybe 75 –100 sport fishing boats drifting the pass in search of the great tarpon. Our first objective was to get out around and past those boats and on to the bay side of Cayo Costa. The waves were minimal and winds refreshing. After clearing the fishing fleet we set course for the 2-mile paddle to the State Park Headquarters. A short while later we could see the boat docks but no sandy shore was within sight. I wasn't interested in climbing out onto a boat dock but if we had no other choice I suppose we could. As we got closer off to the right was a sign reading "canoe & kayak landing" that pointed through the mangroves to a sandy, shady landing. The park headquarters trailer, although a little small was neatly arranged inside and air-conditioned! Unfortunately we had all walked in with wet sandals and boat shoes and made a quick mess of the floor but the rangers said not to worry. After picking up our campsite passes we walked out to wait for the shuttle to take us across the island to where we would setup camp later in the day. The shuttle turned out to be a long, open top trailer with side rails and pulled by a Chevy pickup. It was a very easy and slow ride across the mile wide island through the oak and palm canopy to the drop off point. From there we walked under the tall Australian Pines out into the open hot sun where our two sites were located. They were described on the web site as 'part shade' but my observation was that the shade had left for the day. Oh well, it'll have to do. We had planned to paddle most of the time anyway and only spend the late evening and dinner hours there. We figured to be tired at the end of the day and sleeping would not be a problem. We knew it would be hot since it was JUNE and we're in FLORIDA!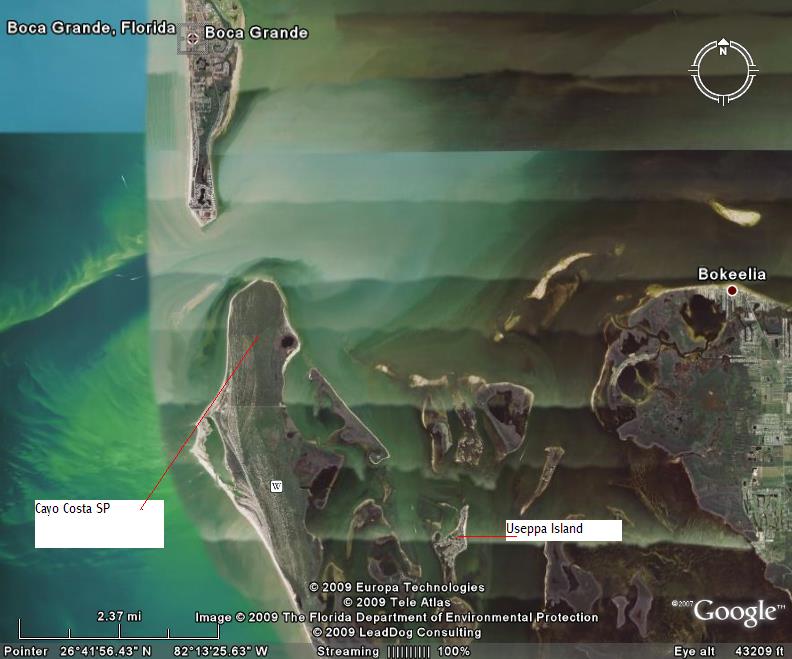 So back on the shuttle we hopped and soon were back in our boats. The ranger pointed out a small cove not far away that was supposed to have a 'ton of manatees' present so that's were we headed first. It was a neat little oval pool of water about 300 feet in diameter but unfortunately no sea cows were spotted. Back out into the bay we went and this time we were to round the northern tip of Cayo Costa and enter the Gulf. The map indicated we'd have approximately 1 mile along the gulf side to paddle before we could come in on the beach directly in front of the campsites. A very unpleasant aroma was growing stronger as we neared the point and soon because almost nauseating. It apparently was the lingering affects of the 'red tide' that occurred a few weeks ago and the decaying marine life was being corralled on the point's sandy shores, safely secured from the southern winds and tidal currents. We had planned to stop there for a break and swim in the calm waters before hitting the open gulf, but now that was impossible. Once we rounded the point we could see the tall pines that hid most of the campsites and proceeded on until we were near where we thought our site was located. The surf was very gentle and made for an easy surf landing, however due to the occasional 2 foot swell it was still possible for one to roll-over on our beach front property. With nice teamwork everyone made it in sitting upright.

The next few hours were very difficult due to the heat and lack of shade so I'll be brief here. It was hotter than heck, but we survived to talk about it later. We unloaded our gear and setup camp with plenty of daylight left to explore cooler areas of the park.

Later in the evening we started a charcoal fire (hard to believe, I know) for the steaks and we moved to the beach anticipating an interesting sunset. Unfortunately, some high clouds appeared out of nowhere and the sun disappeared prematurely. But the beach was very quiet except for the slow rolling surf. Because of the feisty raccoons we had to clean our dishes thoroughly and pack everything away each evening before dark. Once it got dark they would come walking around and didn't mind looking inside tents and backpacks left open. This park had one feature that was worth the paddle out – cold freshwater showers. They have their own water well and osmosis system to remove the water's impurities and the water tasted quite well. Actually, it had no taste at all!

The next morning, after breakfast and a few Advil, Gus, David and I were in the water at 8:30, planning to paddle south along the gulf side. Phil & Mel decided to sleep in, hike some of the trails and paddle later in the day. The winds sounded strong high up in the pines so we were anticipating a challenging paddle once we made it around Murdock point and were headed due south. There were a lot of confused seas as we approached the point so I decided to paddle to shore and take a quick look from atop a sand dune. It didn't look good, with lots of breaking waves as far down the beach as I could see. But I thought we could manage it, especially since we only had approximately 3-4 miles to go until we reached our target destination. That was a spot where just 50 feet or so over the sand lay a pool of water that would lead to a winding mangrove tunnel (called the Tunnel of Love), that itself would lead out to the bay side of the island. The tunnel was to be today's first highlight.

So back into the small surf I went. The frenzied point was very shallow with quick moving, breaking waves slamming us from the side. It was loud, wet and exciting but brief. Now the winds and seas were unobstructed and approached us from off our bow's starboard side and one could quickly adjust when a big one approached. Some of the swells were possibly 4 feet in height but mostly were 2-3 feet with 15 mph winds. We were in no particular hurry (especially Gus) but eventually we made it down to where we thought we should go ashore and look for the water pool. Unfortunately, we missed it by about 100 yards and had to portage the boats that far and then along the 50 foot sand trail to the water. We walked back to the gulf to relax a bit and have lunch on the sandy ledge, enjoying the beautiful green water.

After lunch we headed back to the boats eager to see what this 'Tunnel of Love' was all about. The small pool of water led us quickly to the tunnel's entrance and it was indeed spectacular. The water was cool and shallow (6-10 inches deep), with mangroves towering overhead. Behind the mangroves were more mangroves and all one could see was mangroves – practically no sand visible except underneath the water. The tunnel wasn't very long, it took us maybe 10 leisurely minutes but it was very cool. For those coming in the opposite direction one could hear the pounding surf of the gulf that was sure to raise one's adrenaline level. Once we exited the tunnel the paddling environment would be quite easy for the rest of the day for two reasons. One was that the wind would be to our backs all day two we would be in protected waters for the most part as we paddled between the many mangrove islands of Pine Island Sound.

Our next destination was Cabbage Key with its Cottages and world famous restaurant. That's the restaurant with the walls, support columns and ceiling completely covered with one-dollar bills. The cottages are available for rent and were built atop a 38-foot Indian shell mound. We approached from the west side and could only see mangroves but across from it were visible many of the million dollar homes on Useppa Key. Most of them blended in well with the surroundings with much of the island's growth untouched. None of these keys had roads or bridges leading to them so everyone must move around by water. As we rounded a corner we quickly came upon some boat docks and up atop a sloping grassy hill appeared to be the restaurant. We couldn't spot an identifying sign to know for sure but it looked quite busy with lots of boats and people moving about. We noticed a lone sandy parking lane for us next to a jet ski and soon were standing on familiar St. Augustine grass. Up the steps we walked and into a very packed lunchtime gathering place, open air with lots of ceiling fans. Sort of like a Florida Keys spot with no sidewalks just grass, boat docks and water. We quickly downed some iced teas, cranberry juice and colas (all with lots of ice), but passed on the pricey menu offerings. We knew Mel was still craving her soft drink caffeine and had hoped to pick up some soda cans but it was not to be. Not a soda machine within sight and the bar tender could only provide drinks to us in cups. We did however, talk them into selling us a bag of ice and into my cooler it went after topping off our water containers.

After taking photos we hopped back in the boats and headed north, the now strong southerly winds pushing us along quickly. We looked around every corner and into every nook for the elusive manatees but they were nowhere to be found. By 3 PM we had made our way up past the park headquarters boat dock and could see some of the sightseeing ferries making their Saturday journeys from island to island. As we made our way up the east side of Cayo Costa we decided to look for a small inland cove that was visible on our terrific photographic map that Dana had loaned to me. It was an easy find although the entrance was quite shallow, perfect for kayakers though. We entered and silently circled the edges until a large Osprey quickly flew by at head level, with half of a fish dangling from its claws. Soon we exited and decided to take a swim and relax on a nearby shady beach, finally taking the siesta that we had planned for earlier in the day.

Around 5:30 we re-entered the boats, headed north again and rounded the red-tide smelly point, which had now improved due to the changing tides. The Gulf winds were moderate with 2-3 foot swells slowly making the bend around the island's midsection. Numerous formations of brown pelicans flew low to the water in our direction as we paddled, only to pull up when they neared us. Lots of white egrets walked the waters edge stalking the many schools of baitfish. After arriving at the beach trail in front of our campsite we slid ashore, completing an eleven-hour day on the water. Nonetheless, since our traveling pace was very deliberate it appeared that no one was suffering unduly.

With just over an hour before sunset we set about preparing our last dinner on the island. Mel had successfully traded with other campers some bug spray for BBQ ribs and hamburgers so we shared what was left of the ice we brought back from Cabbage Key. Ice tea is certainly better with ice! It didn't seem as hot as the evening before but I suspected that we were just becoming more acclimated to the climate. As the sun marched toward the water I began to notice more high clouds again – it was mostly clear all day so how could we not have a great sunset this time. Soon we all proceeded to the beach to watch the show and enjoy the slow rolling seas. But it was not to be, again. The sun disappeared well before it could reach the water.

The next morning we had planned to be packed and in the water by 10 am so we could make the 11 am slack water crossing back to Gasparilla Island. Everyone was actually packed early and so we sat on the picnic tables and reflected on that past few days and the interesting things we had experienced. Our campsite was shaded until possibly noon so the conditions were quite pleasant. At 10:00 we stepped into the water and slid our boats off the beach for the last time. After helping the others to launch I quickly pushed my boat off the beach and tried to jump in before the next wave made it's made to me. Unfortunately, the stern of my boat had shifted back enough to touch the sand and as soon as I hit the boat, the wave rolled in and over the other side I went. I jumped up quickly and retrieved my hat, somewhat embarrassed about how casual my ill-fated attempt was. But I made it on the next attempt and paddled out to join the others. No one asked why I looked so wet but I suspected they probably knew.

The trip back was quite easy with both the light winds and seas pushing us from behind. We had one little challenge left though and that was to avoid the paths of the now 100+ boats fishing Boca Grande pass. However, with no discernable current and minimal winds it was a breeze (pun intended) and soon we were mingling with the tourists on the beach. After a few more photos we loaded our gear and proceeded to make plans for the second half of the day, since it was only nearing the noon hour.

Gus had earlier suggested that we stop just east of Sarasota and paddle the Myakka River. It flows through 45 square miles of wetland, prairies, hammocks and pinelands. Since it was on the way out and we had time it sounded like a good idea. After stopping in Englewood for sub sandwiches and more ice cold drinks, soon we were headed north for our bonus trip.

Heading north along I-95 we made the turn east onto highway 72 and were soon crossing the small bridge over the river. Gus then led us on a short nature walk along a shaded trail, back into the thick forest to where an observation tower had been constructed years ago. It was one of a few canopy walk way and towers built and maintained around the world. We walked 24' up the wooden steps of one tower and then had to cross the swinging bridge that connected to the 74' high tower. Only four people at a time were allowed to cross the 80' long bridge at one time so we waited for some ahead of us to clear. The bridge was constructed at tree top height but during the walk across I was concentrating on the rope handrails and didn't notice. Once over the bridge we began the long climb up the taller tower. Although both towers and the bridge appeared to be strongly built with supporting cables in several directions, it was a little unnerving when the taller one began to noticeably sway. I wasn't sure if it was caused by the wind or by the people walking across the bridge but it certainly hastened my walk up and then back down the tower. I am not particularly afraid of heights, just afraid of falling.

... end of Part 1 of 2


Location Data:
| | |
| --- | --- |
| Distance (miles): | 4 |
| Fees/Costs $: | n/a |
Photos from Cayo Costa State Park: (Click image to view full size)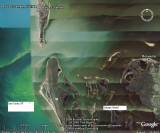 Satellite photo of Cayo Costa
Special Interests and Comments:
| | |
| --- | --- |
| | Cayo Costa State Park |
Post Date: 2/28/2009
Notice: Reported conditions may change and there may be errors in this text. Florida Sea Kayaking Association and author(s) of individual reports shall not be held liable for any omissions and inaccuracies contained herein. Readers are cautioned to supplement reports with other sources of information when planning a trip.