| | | | |
| --- | --- | --- | --- |
| Report By: | gbailey | Date: 9/4/2003 | |
| Rating: | | Photos: See 1 photo | Map & Directions: View |
| | |
| --- | --- |
| | Paddle from Crooked River SP to the Plum Orchard Mansion |
My Report:
by Greg Bailey

Crooked River doesnít look so crooked here on its lower section, near Crooked River State Park. However, it is wide and flowing swiftly as seven FSKA members look out from atop Elliottís Bluff, twenty feet above the water. We carefully carry our boats and gear down the slick concrete ramp without anyone skidding out of control. Pam, the confident one, chooses to launch from the floating boat dock and does so effortlessly. Due to the early morning high tide, we have an early start planned and are in water by 8:30. By all accounts one doesnít want to travel against the tide & currents in this area and I figure we have approximately 2 more hours of current in our favor. Hopefully, that would put us close to our destination: the Carnegie Mansion at Plum Orchard.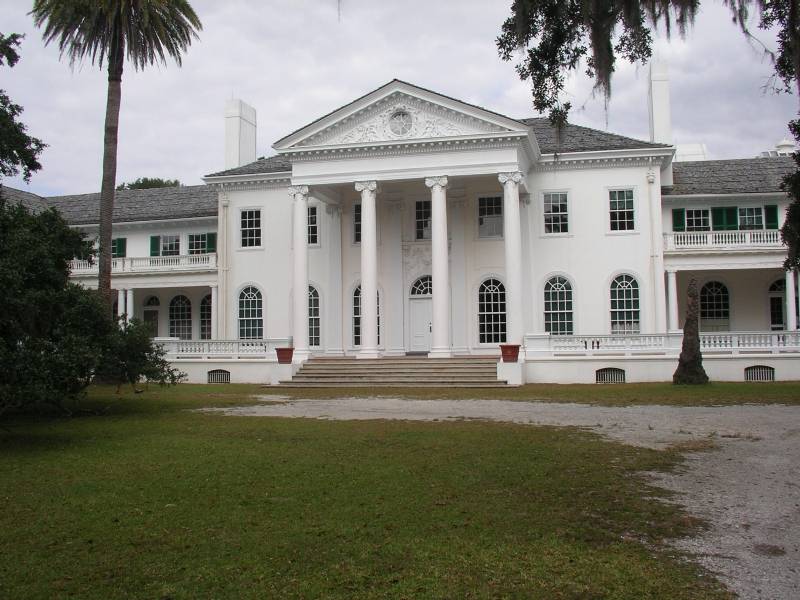 The river seems awfully quiet for a Saturday morning. A few fishermen are moving about but because there is so much water around here it appears that we are all alone. Alone except for a few very large splashes all the way across the river. We canít tell what is making the commotion, and it appears to go on for 30-40 seconds. Lots of white water splashing about, and it is tempting to sprint over to that side of the river to determine the source. However, it is a long way across and no one is really warmed up yet for an all-out sprint. If Franklin were with us maybe he would have issued a challenge. Where was Franklin anyway, we all wondered aloud?

Our first stretch on this river is a two mile straight-away, then a gradual turn toward the southeast and Naval Station Kings Bay, with itís huge Ohio class submarine hangers. The bluff along the riverís south bank ends abruptly and soon we are paddling next to the familiar delta riverbanks. The low water level exposed mostly mud, with the occasional oyster pod and shallow sandbar passing underneath us. Again we see prowling sharks swim right along the riverís edge, sometimes in water only a few inches deep. These are small predators, maybe three feet in length, and are easily spotted by their very active dorsal and tail fins. Since it is still breakfast time, lots of wading birds and a few brown pelicans are also busy nearby.

The first major sandbar catches Steveís skin boat and he comes to a screeching halt. The swift current carries the rest of us safely by as we say our good byes and well wishes to him. Eventually he poles off the sand but by then we are a hundred yards away.

Once we make the southward turn the view ahead becomes a maze of marshlands with no obvious path to the east appearing. I was, however, confident in my map research and 4 year old satellite photos so on we pushed, keeping to the north bank. The shallow waters shut us out of one shortcut but for the most part we had plenty of water and current all the way through to the Intracoastal Waterway (Cumberland River). The ICW was easily recognized by its many channel markers and after looking both ways we began a diagonal crossing of that marine highway. Just three days prior, hurricane Isabel had passed offshore headed north for the Carolina coast so I suspect that many big boat plans for the weekend had to be averted, since not one large power or sail boat was seen all day.

Brickhill River was a short distance away and within sight on the eastern side of the ICW. We made the crossing look easy, paddling directly into a headwind of 15 mph and bright sunshine. Just upriver one could see the first structures on the Carnegie property, along with itís beckoning live oaks draped with Spanish moss, and what sounded like a plague of locust. They were screaming incredibly loud, as if to announce that visitors were coming around the bend.

As we approached the floating boat ramp we searched the riverís edge for an adequate landing zone. This time, confident Pam bypassed the ramp and was soon walking in the mud and muck with the rest of us. However, she was shoeless, and how she avoided the oyster shells Iíll never know. Greeting us atop the mansionís expansive lawn was a perfect breeze along with a picnic table under one of the waterfront oaks. Since it had only taken us two hours to paddle here, we decided there was time to first take a walk around the grounds and then come back to the waterís edge and picnic table for lunch. After paying our $4 Cumberland Island National Seashore fee we strolled along the dirt drive admiring some of the most incredible oaks that I have ever seen. One in particular had 6 huge trunks that had grown from a center trunk that no longer was present. That was one hypothesis, since it would be hard to imagine someone planting, protecting and nurturing 6 acorns that close together. Directly in front of the mansion stood a very prominent, stubby pine tree along with three beautiful ornamental evergreens, maybe 40 feet high.

As we walked the perimeter of this 4 column, three story mansion, peering in though the many front side windows, Bill announced that he had made impromptu arrangements for a tour of the house by one of the live-aboard volunteers. Mary was a gracious and informative host and we spent over an hour walking through the place and listening to her stories. She and her husband work four 10 hour days a week on the house restoration and then have three day weekends. Tough job but then someone has to do it! No furnishings are displayed; just lots of interesting bits of how the very wealthy lived back many, many years ago. The exposed stainless plumbing of the baths looked ready for use, while the original kitchen stove could use some work. Most of the bedrooms had lots of custom built, cedar lined clothes cabinets. Mr. Carnegie also had a contraption he used to summon the service help by ďdialing upĒ the room number where he was and then clanging itís bell. We saw one of his locking roll-top desks, where the lock combination is written underneath the small pullout drawer, top left. An original brass bell (custom built by Tiffanyís) hung in the front foyer, just above the main fireplace. Sounding the bell would summon all those within the house as well as on the grounds, such was its volume. The giant
main fireplace was one of eight in the house, with sitting tables built on either side. Some of the fireplaces had thick steel baskets for burning coal and a pit below for catching the ashes. The inoperative elevator (an Otis, of course) was permanently parked in the basement. The indoor pool was actually reached by going out onto the front porch and then reentering through a side door. The pool looked as deep as it was wide (20 feet?) and in one corner had ceramic tiles reaching from the top deck to the pool bottom. Their time being pre-OSHA, there were no safety bars or rails present. In an adjoining room was the Squash court, constructed with a viewing level high above for spectators. The wine cellar shared a wall with the squash court, burglar bars protecting its contents. Throughout the house yellow paint indicated exactly how far the servants were allowed to travel as they pursued their chores, starting with the rear entrance and not leading far from the kitchen / cooking / cleaning area.

As we exited the house a group of better-dressed individuals (they probably didnít arrive by sea kayak) arrived for their planned tour. We heard their tours are limited to one hour since there are no public restrooms or drinking water available. We did find a sulfur tainted fountain outback of the house, complete with a slanted drain board lined with a thick, slimy white nutrient buildup.
ďDonít turn off the valveĒ, stated the instructions carved into a wooden panel nearby.

A short walk back to the water and it was picnic time. The breeze continued to keep us comfortable while we lazed in the shade, not an ant to be found. In fact, no harassing bugs of any type were present during our time on the island, which was quite surprising. Peering out over Brickhill River, Cynthia pointed out a large swirl and protruding fins. Waiting for it to resurface, we guessed wrongly that it was first a manatee, then an alligator, then a humpback whale. Not surprisingly it was two dolphins, one adult and one juvenile, with the little one closely mimicking every move of itís ďMomĒ. Although there are lots of wild horses on the island we only saw one small black mare while walking the grounds. It looked quite healthy especially compared to some on the southern end of the island.

After lunch we pulled out the maps again, reviewing our planned return course. At 1:30 we were back in the water and paddling with the strong breeze behind us. Soon we spotted three more horses standing nearby, underneath a several smaller shade trees. They were not interested in us at all though, never turning their heads to look or lift a tail. I suppose they must see kayakers all the time and the novelty has worn off.

Within a few moments we had entered the ICW again and were heading north. We wanted to find a narrow cutoff that runs through the northwest corner of the ICW and lower Crooked River. It was approximately 300 yards away and wasnít hard to find. With the incoming tide we now had more water underneath us and were able to paddle closer to the saw grass, and cut through
some of the smaller marsh islands. Although a few small clouds were developing to the west of us, the consistent sea breeze was destined to keep them away from us all day. By 2 PM we had made our way back into Crooked River, paddling northwest with the moderate breeze still behind us. All of the sandbars and mud banks had disappeared now, which meant that we would not have a place to stop and get out if we so desired. However, that was never an issue, since the swift current and winds had us back at the takeout ramp around 3 PM. After such an early start it was nice finishing up a little earlier than we had planned.

The last entertainment for the day was provided by a group of young paddlers that entered the water, as we were about to depart for home. They had 6 tandem and one single open cockpit kayaks and hit the water just as the wind intensified. That combination was enough to entice us to hang around a short while longer and finish off a few cold drinks as well. The thought quickly passed among our group that we might soon be untying our boats again and performing assisted rescues. Paddling against the incoming tide and 15 mph winds the eager paddlers headed east for just a short distance before circling each other and commencing a water fight. They appeared to be having fun, and that is all that really mattered anyway. I suspect the thought of paddling 7 miles further to Cumberland Island never would enter their minds, nor would FSKA consider a water fight 100 yards into an all day trip. To each, their own.


Location Data:
| | |
| --- | --- |
| Distance (miles): | 6 |
| Fees/Costs $: | n/a |
Photos from Cumberland Island, GA: (Click image to view full size)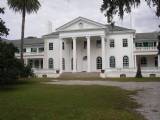 The Mansion at Plum Orchard
Special Interests and Comments:
| | |
| --- | --- |
| | Cumberland Island |
Post Date: 2/28/2009
Notice: Reported conditions may change and there may be errors in this text. Florida Sea Kayaking Association and author(s) of individual reports shall not be held liable for any omissions and inaccuracies contained herein. Readers are cautioned to supplement reports with other sources of information when planning a trip.