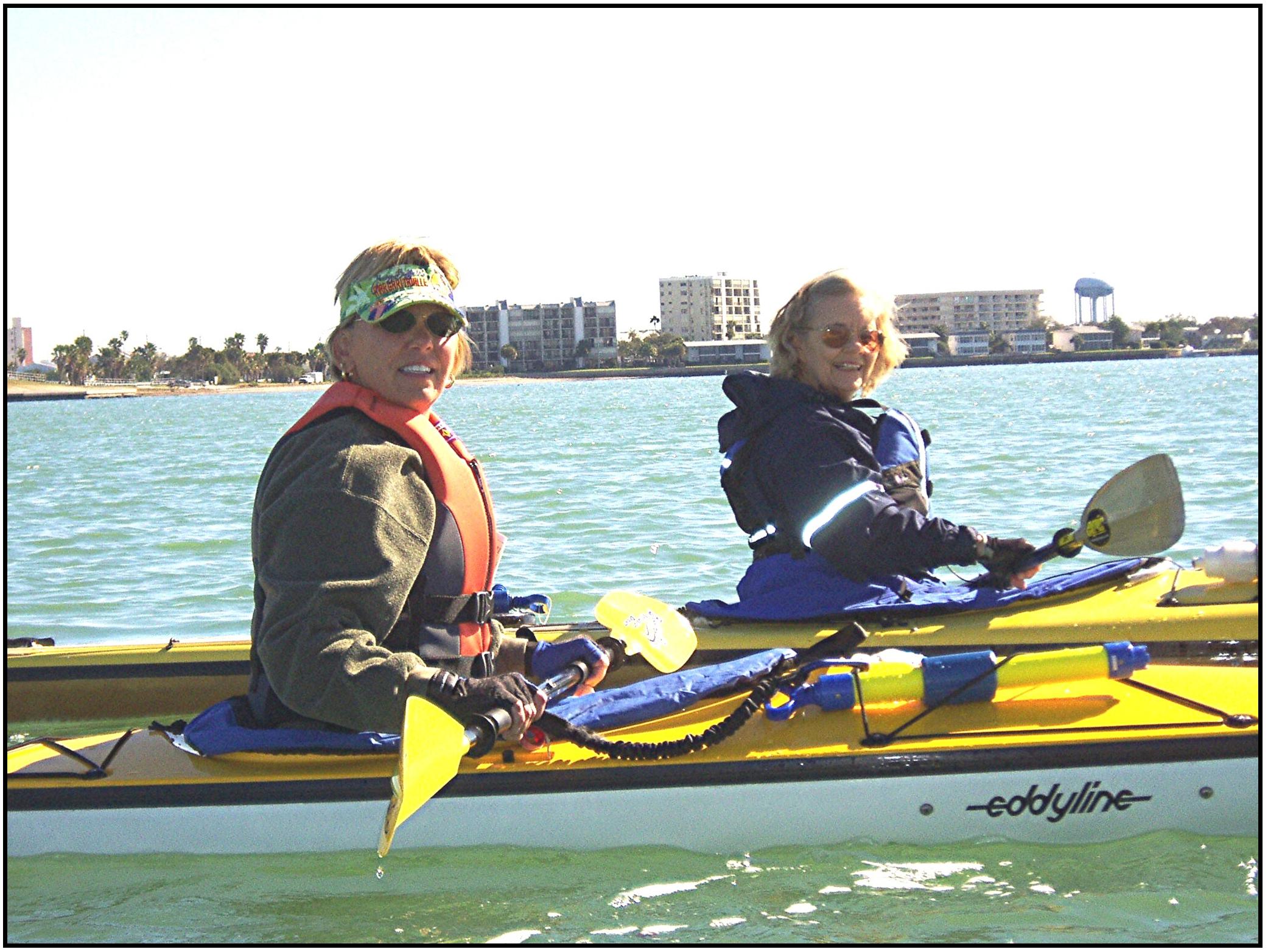 On this early February morning, the thermometer said 45 degrees Fahrenheit when I woke up. Several days ago it seemed like a good idea to schedule a paddle today, but as I looked at the thermometer and then saw the palm trees swaying in the breeze outside my bedroom window, I wasn't so sure. It turned out that the wind was blowing about 10 mph.
As I pulled on my clothes wondering if this was such a good idea I remembered that kayaking is a sport that if you don't use it, you lose it – the conditioning and muscle memory which makes paddling a pleasure. I was thinking that I had promised Rachel Doran and Janice Mac Intyre that I would be at Dunedin Causeway at 10 a.m. and I didn't want to wimp out by calling them and telling them "It's too cold outside". I did have an alternate paddle planned, the Pithlachotee River, about a 30 minute drive north of the Dunedin Causeway in New Port Richey.
When I arrived, both Rachel and Janice were there, surveying the situation. We discussed the temperature, which had warmed up to almost 60 degrees F, and the windy conditions. There was the alternative of paddling on a river. We all wanted the group to feel comfortable with the paddling conditions before launching. Since the wind was blowing from the North, we decided that if we paddled East along the Causeway, we would be protected from the wind. We could then head South to some of the spoil islands, take a snack break and then head back.
This made sense because we were all dress appropriately for the weather and felt comfortable with the paddling conditions. This would also preclude a time consuming trip North to the Pithlachotee River. We launched with the ease of experienced paddlers who have done this many, many times. My strokes were a little sluggish from the extra pounds that I put on over the Christmas Holidays. However, we were paddling at a very comfortable speed, protected by the wind. We then turned South towards the spoil islands. With both the wind and tide pushing us, I was surprised that we had been paddling a more than 40 minutes when we reached the first island. We all agreed to keep going South. We zipped along passing islands No, 2 and 3 and finally deciding to stop at Island No. 4 with barely an hour's paddling. This paddling is fun going with both the wind and tide. I estimate that riding the wind and tide, we were going more than 4 mph.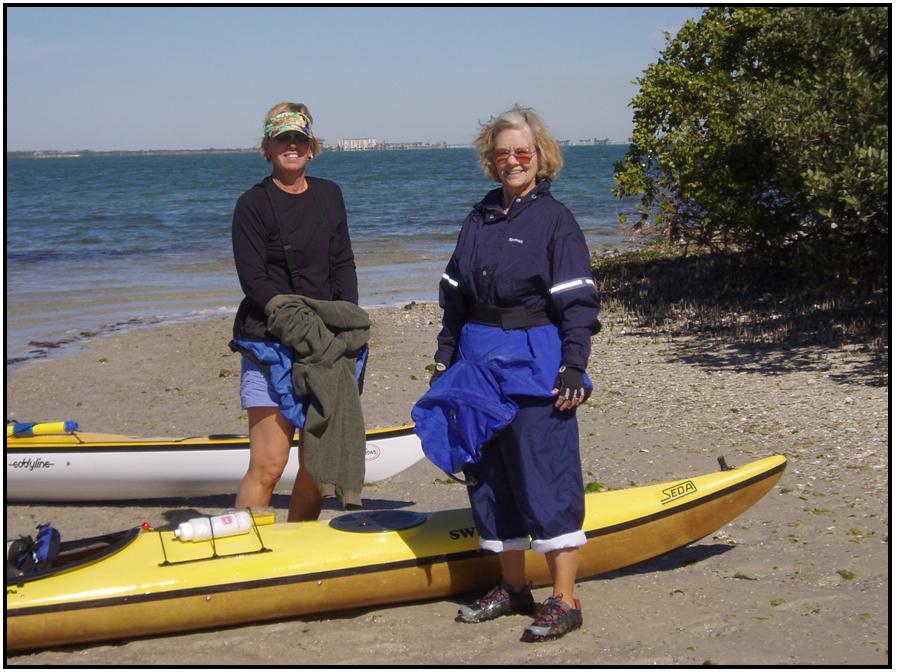 After a snack and some light discussion, it was time to head back. Of course, the wind had picked up from about 10 mph to 15 mph (this only occurs when you are heading into a wind). As we pushed off from the island, it was clear that it would be a "slog" back to our take-out. As I dug my paddle into the water for the "umpteenth" time, it was clear that our speed had slowed to about 2.5 mph, with twice the effort. My muscles were starting to strain, I was puffing a bit, and we were not even back to Island No. 3. If we stopped for a rest and drink of water, the wind would blow us backward, reclaiming distance which was hard-won through our efforts. "Let's head for the lee of Island No. 3", I yelled. Time for a rest! Then it was off to Island No. 2. Got to dig in! I kept saying to myself, "This is good for you. It will build endurance." Then my mind would respond, "Damn those Christmas cookies. I knew that sooner or later I would pay the price for eating them."
Anyone who has done a bit of kayaking, knows that when you are a little tired, you must play mind games with yourself to keep the kayak moving forward to achieve your distance goals. After quit a bit of slogging and digging we arrived at the causeway. It was a fairly easy paddle along the wind protected strip of land to the take-out. Rachel asked if I would do it again. I said, "Yep, except I think that I would have gone upwind first so that the paddle "home" could have been with the wind. Ahhh! We never stop learning or in this case, re-learning.