While getting ready to hike to Fort Pickens I stopped at the safety signage near the trailhead (and what was the Fort Pickens Road pre Hurricane Ivan). The usual beach safety notices were neatly posted and the one on rip currents caught my eye. After 12 years of living on or near the gulf I realized I didn't know much about them. Following a nice afternoon of hiking and photography, I came home and did a little research on rip currents. Thought you might like to see what I found.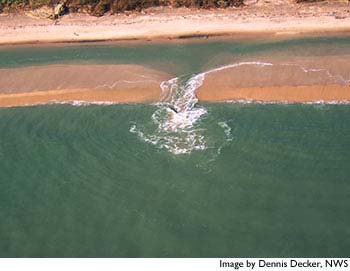 According to
Wikipedia
, "Rip currents cause approximately 100 deaths annually in the United States, more than all other natural hazards except heat and lightning. Over 80% of rescues by surf beach lifeguards are due to rip currents."
The numbers in the Wikipedia article surprised me - I guess there are many others that don't know about rip currents - and sometimes leading to very bad results.
Here are some rip current safety tips that I found on Pensacola Beach signs, Wikipedia and other websites:
How to identify rip currents:
A channel of churning, choppy water sometimes with a calm center
A break in the incoming wave pattern

An area where the water is noticeably different in color
An area where seaweed and other floating debris moves out to sea
Safety:
Be cautious when you're in the water and never go swimming alone
Don't swim near piers and jetties as they encourage rip currents by blocking normal wave action

If swimming and caught in a rip current, remain calm, conserve energy and swim out of the current parallel to the shoreline. Do not fight the current trying to swim directly back to shore.

If you can't swim, float or tread water. Most rip currents are short lived and narrow so you'll quickly get past the strong flow. Signal for help by facing the shore, wave arms and yell for help.
If you see someone in trouble, get help if available and call 911 if cell phone service exists. If you have to enter the water to help someone, always wear or carry a flotation device.

As with many things, there is some good mixed in with the bad. Rip currents can and are used by surfers and lifeguards to quickly and easily get out to deeper water and past the surf line. I'm thinking paddlers could use them for the same purpose.
If you have experience with rip currents (both good or bad) please leave a comment below so we can all learn. Thanks and be safe on the water!