Below is a bio we received from Lynette Foster as her application for the Southeast Florida Expert position at Green Wave Forum. While her home is Martin County you'll find that Lynette canoes, kayaks and camps many fantastic locations throughout the southeastern part of the State. So sit back and get ready to learn a lot more about her favorite stomping grounds - or better yet, write Lynette and say hello.
Lynette can be contacted at
lynette422001@clubkayak.com
or drop her a message on the
forums
.
---
From Lynette (Lynette422001):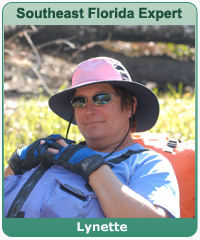 I am an avid paddler and worshiper of the outdoors for these past 30 years. I paddle a canoe on rivers, a sea kayak in open water, and a SOT kayak in waves. I love wilderness camping and exploring new paddling spots. Birdwatching and insect watching also hold my interest incessantly. My current favorite trail is the Florida Circumnavigational Saltwater Paddling Trail. I look forward to many more paddling trips, meeting more fabulous paddlers, and writing about the outdoors.
My passion for writing is new this past year. I also have articles in an online magazine,
The Examiner
. Check out my column
Tampa Camping Examiner
.

Lynette Foster


---
Lynette - Welcome to Green Wave Forum and thank you for joining us as our new Southeast Florida Expert!