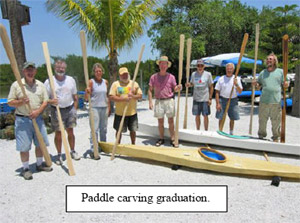 The finished products - Greenland Style paddles!
Greenland style paddles are "in, hip, cool". Greenlanders say that, "once you go Greenland, you will never go back to European style paddles." Do you have a desire to have one on those wooden sticks but don't have the cash or know where to get one? How about making one yourself?
In April, Ed Engle (with Joe Mullen's help) held one of his paddle carving classes at Grande Tour Kayaks in Placida, FL.
There were six students besides Ed and Joe. Ed provided the wood, tools and know how. The students brought their bright eyes and energy for this day and a half workshop. As you can see from the picture, the students made Greenland style wooden paddles, of various lengths and forms, were made to suit each paddler who made it. You don't have to be a "master carpenter" but simply able to work with wood and follow step-by-step instructions.
If interested in future paddle carving classes, call Ed Engel at 941-626-2389.