On July 7, we set off on a paddling trip in the Feather Sound area of St. Petersburg with Kevin Kenny as our excellent trip leader. Our group of seven TBSK'ers, including four TBSKers who were trip leaders, launched from the 4th Street area just south of I-275, and completed a seven mile paddle.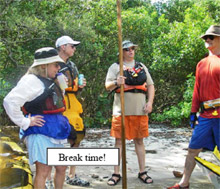 Taking a break
Conditions were good, with almost no wind and calm seas (the only waves came from some passing fishing boats). The typical summer conditions of hazy, hot and humid prompted Hank to constantly remind us to drink water.
We first crossed underneath I-275, which is a lot more fun than sitting in your car in a traffic jam! Then headed west, past the mangroves of the Feather Sound area.
On the way out to the St. Petersburg / Clearwater Airport area, we saw quite a bit of wildlife. There were several schools of small manta rays swimming in formation, ospreys and several roseate spoonbills nesting in the mangroves. Hank managed to find a spoonbill feather floating on the water which he promptly saved under his deck rigging.
Looking up as we approached the St. Petersburg / Clearwater airport, we watched several small planes taking off and landing and also saw a Coast Guard helicopter leaving the base, thankfully not to rescue any of our group.
We then started our trip back hugging the coast to get a closer look at life hidden in the mangroves. At a very small patch of sand, we stopped to stretch and snack. Tom talked about kayaking around the Maryland and Washington area. Kevin told us about the upcoming change of command at MacDill Air Force Base. We continued our paddle back, while Al practiced his rolls…just to keep cool.
In all, the trip took about 3 hours, and a great time was had by all. Our thanks go to Kevin for leading the trip and to Doug for taking the great photos. It was a wonderful experience for both me and my wife, Judy.