In late August on a very warm day, six TBSKers gathered at the 24th Street Bridge close to Ruskin to paddle upriver. When you paddle upriver, you have to worry about sufficient water. We were lucky to have had rains for the week before the paddle.
The thing that I enjoy about the upper Little Manatee River is that it is very scenic. I love gnarly trees hanging over the river, turtles on tree branches, the many twists and turns so that you don't know what I around the next corner.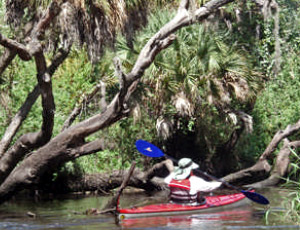 Paddling the Little Manatee River near Ruskin

On the way upriver, we decided to take the "Loop", which winds it's way "parallel" to the Little Manatee. It's like a creek that begins and ends in the river - therefore the name Loop. It's somewhat constricted but give you a different feel for a waterway. We were fortunate to have Jimmy Stewart along, someone with local knowledge, to guide us through the many different paths of the waterway.
As we paddled upriver, we had to take breaks to ensure that we did not get too spread out along the river. I'm sure that was the reason we stopped so often.
One of the interesting things along the river is the State Park canoe/ kayak launch. It has giant steps and then, depending on the river level, one gigantic final step to get to the river. Not very practical - must have been one of those "consultants" who dreamed up this one.