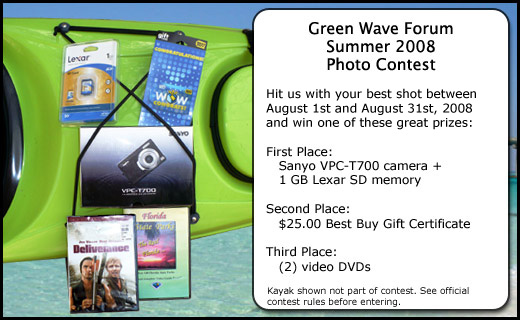 Whether photography is your passion or just an occasional pastime, we invite you to participate in the Green Wave Forum Summer 2008 Photo Contest. It's a contest where the top three entries win great prizes and everyone who enters gets their photo displayed on Green Wave Forum.
The top seven photos selected will be shown on the Green Wave Forum home page (http://www.clubkayak.com/greenwave/) on a rotating basis during September and October 2008.
Eager to get started?
1) Read the
Official Contest Rules
2) Go out and shoot an awesome photo that has a canoe, kayak or other paddlecraft in it. The photo must be taken in Florida within the past three years. Photos without paddlecraft will not be judged.
3) If you haven't done so already, register on Green Wave Forum and login. When you register, make sure we have your real name and email address. Otherwise we can't contact you if you win.
4) Go to the photo gallery ("Photos" on the menu on the left side of this page). Click on "Upload Photos". Enter a title for your photo, the date it was taken, some keywords and a brief description of the photo. Click on Browse to find the photo on your PC and then Upload.
=OR=
Upload your photo as part of a trip report posted to the trips section of Green Wave Forum.
5) All photos uploaded via the Photo Gallery or a Trip Report during the month of August 2008 will be considered.
6) Now sit back and keep your fingers crossed. We'll do the judging between September 1 and September 7. Winners will be announced no later than September 8, 2008.
That's it. Now go out and get that winning photo!
Nagging reminder: please
read the official contest rules
before entering.
We'd hate to disqualify an otherwise great entry.