What an exciting photo contest with so many great entries to choose from! During the August 1 to 31, 2008 contest we received a total of 172 images from 17 photographers. Our three judges had a difficult time deciding on winners but without further ado, here they are:
First Place: "Old Glory" by Diane L,
flkrakr
Diane receives a Sanyo VPC-T700 Camera plus 1 GB Lexar SD memory card. Happy shooting with your new camera Diane!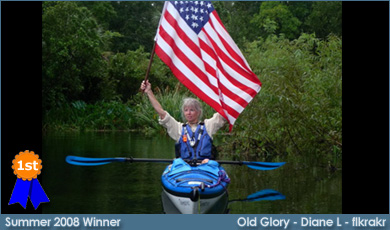 Second Place: "Paddle, Pedal, Sail" by Anne B,
moonlightdesigns
Anne receives a $25.00 Best Buy Gift Certificate. Enjoy!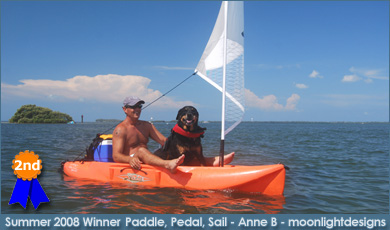 Third Place: "Coldwater Creek" by Greg P,
gpax
Greg receives two DVD videos. Florida State Parks and Deliverance.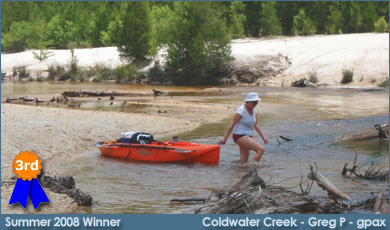 ---
Honorable Mentions and Judges favorites all receive a handsome certificate in the mail.
Favorite: "Lunch Break" by Jimmy S, submitted
crane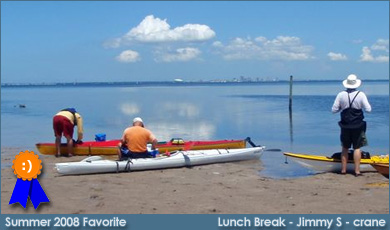 Favorite: "Steinhatchee Falls" by Pat C,
donkeyoatey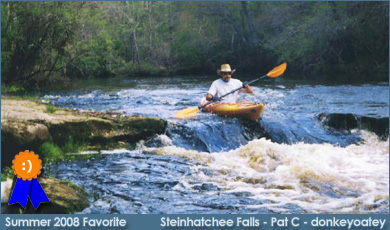 Favorite: "DeLeon Springs" by Jerry L,
jandbrare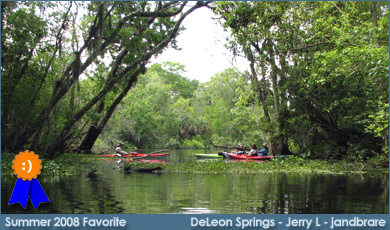 Favorite: "Sunday Morning" by Sean W,
cornbread07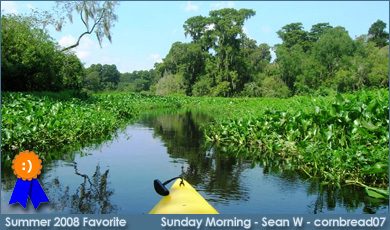 ---
Judges
Judging this photo contest were our resident Green Wave Forum Experts:
Frances S,
paddlesolo
, Northwest Florida Expert
Dave C,
yakdave
, Central Florida Expert
Ed S,
ed
, Green Wave Forum founder and webmaster
---
Didn't win this time?
You had to post a photo on Green Wave Forum between August 1 and 31, 2008. Many high quality photos were entered but according to the rules a canoe, kayak or other paddlecraft must be discernible in the photo and the photo must be taken in Florida within the past three years. Don't give up if you didn't get it this time. A Winter 2008 contest just might be in the works.