The 2009 Paddler Photo Contest sponsored by the Florida Paddling Trails Association (floridapaddlingtrails.com) and Club Kayak (clubkayak.com) is now over. The contest has been exciting with so many great entries to choose from!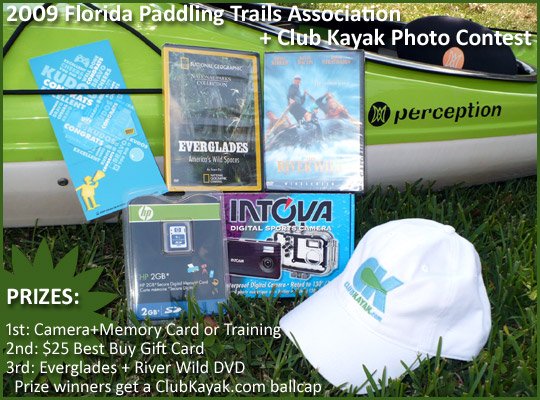 From April 1 to May 31, 2009, paddlers throughout the U.S. have submitted a total of 224 photos. Our seven judge panel had a difficult time deciding on winners, but without further ado here they are:
First Place: "Canoe Launch at Snook Haven" by Kayne Torman of Sarasota
Kayne receives her choice of a Intova Waterproof Digital Camera rated to 130 feet plus a 2 GB memory card or two hours of kayak skills training provided by Sweetwater Kayaks (Tampa Bay area only). She also gets a nifty Club Kayak ballcap.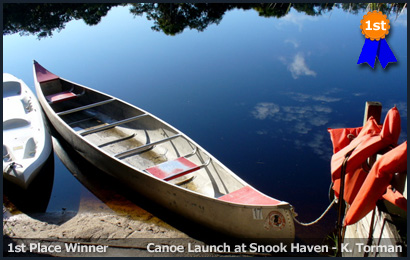 Second Place: "Tandem Canoe on Ocheessee Pond" by Greg Pack of Pensacola
Greg receives a $25.00 Best Buy Gift Card and a Club Kayak ballcap. Enjoy!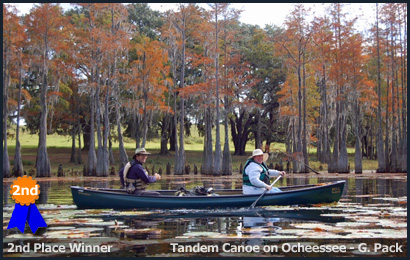 Third Place: "Blue Cypress Lake in Indian County" by John Waite of Vero Beach
John receives two video DVDs and a Club Kayak ballcap. National Geographic Everglades and The River Wild. Congratulations!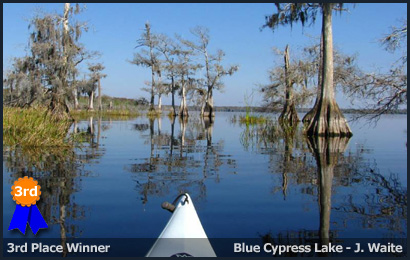 ---
Honorable Mentions shown below receive a handsome certificate in the mail.
Honorable Mention: "Manatee Under Girl at Three Sisters" by Greg Pack of Pensacola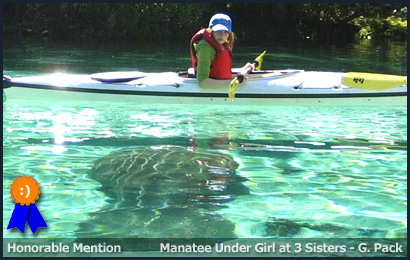 Honorable Mention: "The Nightmare at Harney River Everglades" by Susan Reece of Everglades City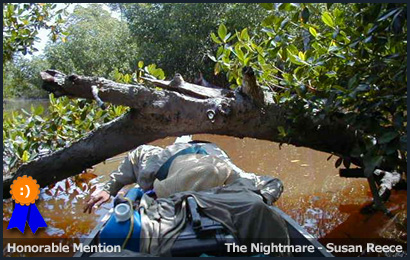 Honorable Mention: "Tracy Videoing Manatees" by Diane Lewis of Inverness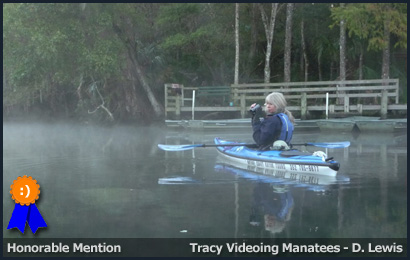 Honorable Mention: "Paddle Florida 2009" by Philip McEwen of Jacksonville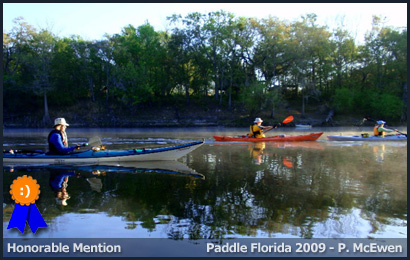 ---
Judges
Judging the photo contest were seven members of the Tampa Bay Sea Kayakers club on June 9, 2009.
---
Didn't win this time?
You had to post a photo on the
Florida Paddling Trails Association website
between April 1 and May 31, 2009. Many high quality photos were entered but according to the rules a canoe, kayak or other paddlecraft must be discernible in the photo and the photo must be taken in Florida within the past three years. Don't give up if you didn't win this time. A new contest just might be in the works.