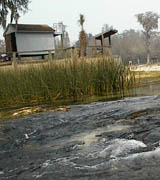 Ah, autumn comes to the Sunshine State. In the Tampa Bay area, we're starting to feel the first few cold snaps, which bring snow to the Rocky Mountains and Midwest, and comfortable 75 degree days and 60 degree nights to our local. The Gulf of Mexico is nice and warm in the mid to high 70's.
On the downside, roads and restaurants are getting more crowded as our semi-annual "snowbird" population makes their way South. Simply driving by you-know-Where-Mart can be a life changing experience.
This time of year is wonderful for paddling in Florida. As gear is being stowed in other parts of the country, Florida kayakers and canoeists are coming out in droves. With perfect temperatures, palm trees swaying in the breeze and inviting water everywhere, this must be God's gift to paddlesport enthusiasts.
Send me an email at FloridaKayaker@gmail.comand I'll help you find that perfect Florida paddling location. Now, if only someone can help me find a restaurant with less than a 45 minute wait!
Best Wishes,
Ed Schessl
FloridaKayaker@gmail.com