You might think this summer's editorial is about flying F-16 fighters over hostile territory or maybe even a B-2 high above the earth. Well, we're not taking the plunge at 20,000 feet, but we are trying to keep you from experiencing 20,000 leagues under the sea. So, if you have a few minutes, sit back, read on and you'll even get to take a peek at what's in our bailout bag.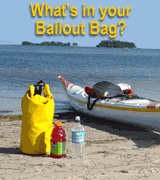 Unfamiliar with bailout bags? No doubt you've heard of safety kits or survival bags. Those small waterproof sacks stuffed full of all manner of safety and comfort equipment. Before you go "Whoa, I don't take those kind of trips." we all bring safety gear paddling. Most states require a PFD (Personal Flotation Device-Life Jacket) and noise-making device. Most prudent people will wear, or at least carry both, with or without state law. Most also have some sort of rope, a small first aid kit, a few matches and cell phone.
With those basic supplies, putting together a bailout bag is not difficult. Want to take a peek in my bailout bag?
Here's the gory details:
Marine Medical Kit including Bandages, Medical tape, Aspirin, Anti-seasickness pills, and other good stuff
Small fishing kit with Hook, Line, Sinkers, Bobbers, Jig, Dry flies and Plastic Worms
Survival Kit in a [sardine] Can including Fire starter, Compass, Bandages, Thread, Needle, Razor Blade, Candy, and Fish Line and more
Handheld Marine Radio with weather band
Tie wraps
Cylumne sticks
Pen Flare Launcher - 3 flares
Small flashlight - AA battery
GPS - Global Positioning System - AA battery
Small AM / FM / TV radio - AA battery
Folding knife
Duct tape
Permanent marker
Monocular
Emergency strobe
Emergency blanket
Power Bars / Quick energy food
Waterproof matches
20 feet braided rope
Carabineers
Convenience Items:
Bailout bags are not only for survival purposes. You don't know how many times I've shared my sunscreen, insect repellent, energy food bars and even toilet paper. Of course, the last item I didn't really share. Gave it away is more like it. So add the following:
Toilet Paper
Insect repellent

Sunscreen
Small mesh bag - for collecting shells
Finishing Touches:
The top layer of my bag is loaded just before leaving land:
Extra pair of eyeglasses
Wallet / Money
Car Keys
Cell Phone
By now you're probably wondering if I look like Santa Claus trying to carry all this gear. Actually my SealLine(TM) Baja 10 Dry Bag is quite small. It measures about 8x14 inches, holds 10 liters of stuff and fits neatly behind most recreational kayak seats.
So, there you have it, a complete bailout bag. I'm sure some of you have much better and tighter kits, but this one keeps me feeling secure whether I'm paddling for 2 hours or 2 weeks. As a bonus, your bailout bag works nicely for long car trips or part of your hurricane preparedness kit.

Enjoy your day.
Ed Schessl
FloridaKayaker@gmail.com