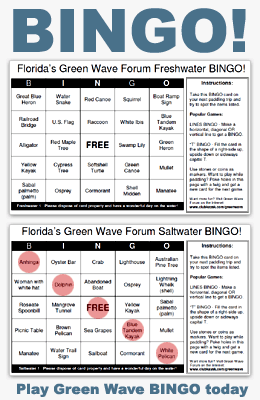 Calling all Florida Paddling Clubs!
Are you having a tough time keeping everyone together during your trips or perhaps looking for a little more excitement? Well look no more!
Treat your club members to a game of on-the-water BINGO. It's easy to play and fun. Each card is based on the traditional 5x5 Bingo card, complete with a free spot.

Instructions:
1) Download the cards: Adobe PDF or Microsoft Word format. Files are the same and each contains two freshwater and two saltwater cards. If you want, use the Word version to create your own cards by changing items in the boxes.
2) Print one page per member. This is good for two games.
3) Distribute cards to members and announce style of play; LINES BINGO or a "T" BINGO game. LINES is where a win is recorded by making a horizontal, vertical or diagonal line through five squares. "T" BINGO is played by making a right-side up, upside down or sideways capital "T" on the card.
4) Unlike regular BINGO where a caller announces a number, this game is played by members trying to spot items shown on the card. For instance, they may see an Osprey. The member would then silently mark "Osprey" on their card.
5) Can be played with markers, coins, rocks or by poking holes in the paper with a twig or any other method to mark the card.
6) Once a person has completed the LINES or "T", they yell "BINGO" and then tell the group where each item was spotted.
That's it. Easy and Fun. Download the Green Wave Forum BINGO cards in Adobe PDF or Microsoft Word format today!