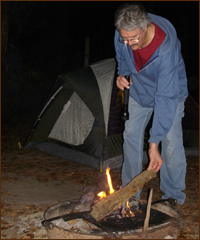 An inviting campfire makes the camping trip. Warming up on cool nights, listening to the crackle of the wood as it burns, watching flames dance in mesmerizing patterns and telling ghost stories. We can't forget toasting marshmallows and S'mores. Everyone loves a campfire.
Well, almost everyone. Park service employees who have clean fire pits after lazy campers, environmentalists who cringe when they see limbs snapped off trees for firewood and certainly not forest fire fighters. They may not find enjoyment in your campfire.
So how do you have the first one, without angering the later? Before we learn how to properly construct a campfire, let's review a few fire safety rules:
Make sure the county you are in does not have a fire ban
Do not build a fire if the campground or area prohibits them. Please note that most national and Florida state parks do not allow campfires on the beach.

Do not build fires in dry, hazardous conditions
Never build a fire near trees, tents or other flammable items
Before building your fire look up - are there any low-hanging branches?
Never leave a fire unattended
Keep the fire small
Completely extinguish the fire before going to bed or leaving your campsite

Now that we know the rules, let's select a location and get started:
Does your site have a fire ring or grill? If so, use it otherwise situate your fire at least 10 feet from tents and trees and other flammable objects.
If you need to make a fire pit, dig a foot deep hole in the dirt. Circling the pit with rocks is optional. Some people recommend doing so to help contain the fire, others say it just blackens the rocks and doesn't help much with containment. If you are on the beach, you'll be digging a hole in the sand.
Keep a bucket of water or sand handy to control the fire if it gets too large or starts to spread from the fire pit.
If you need to gather firewood and it is allowed where you are camping, use only fallen branches. Do not use green or fresh cut wood. These won't burn anyway.

Collect kindling, which is small sticks less than one inch in diameter. This is added as the fire starts to catch.

Construct a small pile of dry twigs, pine needles, paper or other small, flammable items. Keep the tinder "loose", allowing space between twigs for air to feed the fire.
Light the tinder with a match or cigarette lighter.
Slowly add more tinder. You might need to blow softly on the fire to keep it going.
Add increasingly larger pieces of kindling and eventually logs as the fire grows in size.
If you have them, add a few charcoal briquettes to the fire. Once these catch it will be much easier to cook over charcoal vs. open flame.

It's a wrap! When you are done with your fire, make sure it is completely extinguished.
Pour water on the fire. Keep doing this until all wood is totally soaked.
Stir the wet wood with a stick and pour more water until everything is cool to the touch.
No water? Use sand but do not bury the fire with sand - there is a chance that it will continue to smolder underground and eventually restart.
As Smokey the Bear says "Only you can prevent forest fires."
For more information on campfire safety, see www.smokeybear.com.