One of the most important decisions that you'll make while camping in Florida is choosing your campsite. You'll need proper planning and a bit of luck to find that perfect place. A good camp with nice scenery, adequate drainage and easy access will contribute greatly to your trip. Make a poor choice and face a river running through the tent during storms and mosquitoes, biting flies and a night with little sleep.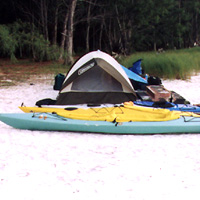 But don't fret - we're here with some tips to help you find that camping Shangri La.
In Florida there are essentially three kinds of camping: Commercial facilities, State Parks and Primitive Camping. We have everything from Fort Wilderness at DisneyWorld and KOA to full-hookup sites at Silver River State Park to chickees and beach camping in the Everglades. What you look for in a campsite is different depending on where you are camping.


COMMERCIAL FACILITIES AND STATE PARKS
Choosing campsites at commercial facilities and state parks is easier since you are generally restricted to predesignated areas and depending upon season, a limited supply of sites. Be sure to reserve your site as early as possible as if you wait until the weekend before your trip you may be out of luck or limited to a choice of one or two less than idea sites. This is especially important during the snowbird season (October to April).
Here are some more helpful tips for camping in established commercial areas and state parks:
Reserve your site early. Oh, did I mention that already?
If you brought your kayak or canoe, select a site nearest to the water.
Speaking of water - does the site have a water faucet and electricity?
For some people selecting a spot near the restrooms is helpful, but for others this might not be desirable. Usually there is lots of traffic of people coming and "going" at all hours. That said, having a restroom within a reasonable distance is good.
Don't pick a site near garbage dumpsters. In Florida it gets hot and they get smelly.
Most parks have designated sites for RVs and tents. Putting a tent in an RV area leads to frustration with listening to AC units running non-stop, dealing with exhaust smell and a seriously hard ground (packed down due to heavy equipment).
Pick a site that works for your sized group and camping equipment. If you are tent camping it is usually easier to move your tent vs. trying to back an RV into a too tight of an area.
What is the maximum occupancy of the site?
Is there enough space to park your car?
How close are recreational facilities such as swimming pools and playgrounds?
Does the site have a picnic table or will you need to bring a table and chairs for food preparation and seating?
Is there a metal fire ring?
Does the park have firewood available or do you need to bring your own? Most parks do not allow collecting of firewood.
For those with pets that are going camping, check the park's pet restrictions.
PRIMITIVE CAMPING - ON YOUR OWN
With primitive camping, also known as backpacking or wilderness camping, you have different issues; such as is it legal to camp here, do I need a permit, what is the access like (usually no roads), where can I get help if I need it, is water available, etc. Be sure to scout your future site on a pre-camping trip or find someone familiar with the area. Ask "Can I camp here?" Do this even if you have camped at this location in the past as sometimes sites are closed due to environmental abuse, bird-nesting seasons and other legal reasons.
Here are more primitive camping tips to make your time in the woods enjoyable:
Look for a scenic spot that has good water access, particularly if you are kayak or canoe camping. No one likes to leave his or her boat hundreds of yards from the campsite.
Saltwater trip? Watch the tides. You might pull into that perfect little beach in the Everglades at high tide, just to find out that it is a 1/4 mile drag through mud at low tide. BTW, the Everglades has designated spots that require permits and yes, they do have long slogs through the mud too.
For privacy, pick a spot away from other campers.
Be environment friendly. Pitch your tent on bare ground or sand. Do not put it in tall grass or fragile areas. Besides, grass is where the bugs like to hide.
Select a site that gets direct sunlight in the morning. Yes, even if you like to sleep late. The sun will speed drying of your tent, clothes and other items so you don't have to pack a bunch of wet gear.
Camp at established sites when possible. Re-use a former site and fire ring to lessen the impact on the environment.
Avoid low-lying areas as they collect rainwater and mosquitoes.
Pitch your tent someplace where you can get a nice breeze to keep the bugs down.
Don't camp under leaning trees or trees with limbs that look like they can fall easily.
Avoid pitching your tent under a single tree or small clumps of trees as they are easy targets for lightning during a storm.
Camping in the trees? Find a spot where all trees are about the same height to avoid the lightning issue.

Choose a level site that has good drainage in case of rainstorms.
If you are on a slight slope, pitch your tent with the back of the tent uphill and the opening downhill. That way you can sleep with your head at the back of the tent and feet near at the doorway.
Check on fire restrictions before leaving home and always bring a stove even if fires are permitted.
Check on the nearest "restroom". If you don't know what a cathole is, look it up on Wikipedia and learn to make them before going potty.
There you have it, a few good tips on choosing the perfect campsite whether you are camping at Disney, a Florida State Park or in the wild.

If you have tips of your own be sure to add them in the comments area below.