A while back, in September 2003 to be exact, I wrote an article titled "To Wear or Not to Wear?" dealing with PFDs (Personal Flotation Devices / Life Jackets). For those interested in ancient history, you can read the article here.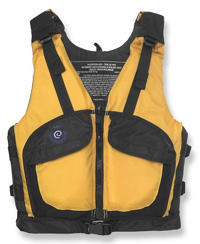 Now this time I'm not only going to talk about wearing a life jacket and the good reasons to do so, e.g. saving your own skin, we'll look at a few different types and select the best one for Florida paddlers.
At any given time, from Pensacola to Key West you'll find thousands of paddlers on Florida waters. They paddle anything from kayaks to canoes to dragon boats, rowboats and many other types of human powered craft. The US Coast Guard has several requirements for their safety and a "U.S. Coast Guard approved" Personal Flotation Device is one of them.
Those individuals over the age of six years old have an option to wear it; those six years and younger must wear a PFD. Not wearing your PFD? It still must be onboard, be of serviceable condition and accessible. Additional to the PFD requirements, each vessel must have at least one sound-producing device. A whistle clipped to your PFD will suffice.

There are several types of PFDs and we'll review them here. Only one style, Type III, is practical for kayaking.
Type I PFD: These offshore life jackets are for rough, open water. They are the most buoyant and will turn the wearer face up automatically. Unfortunately they are bulky enough to be uncomfortable and will most likely restrict your arm motion while paddling.
Type II PFD: These near-shore vests are commonly known as "horse collars". They are for locations where quick rescue is possible. They are awkward to put on and take off and difficult to use while paddling. The plus side - they are cheap and can be found at nearly every store that sells life jackets.
Type III PFD: This the most common type used for paddle sports. They are vests or full-sleeved jackets and good for use in calm waters where quick rescue is likely. They are the most comfortable PFDs and allow for a snug fit. Arms can be easily moved while paddling. The downside is a Type III PFD will not turn an unconscious paddler face up and they are somewhat expensive compared to other styles.
Type IV PFD: These are throwable devices and can be anything from life-saving rings to buoyant chair cushions. They are not approved nor required for use on kayaks and canoes.
Type V PFD: These are special use devices such as deck suits and hybrid PFDs (buoyant foam + inflatable). Generally not used for paddling.
Now that you know which type of PFD to get for your canoe or kayak (THINK TYPE III), let's talk a little about getting a proper fit. It is important (actually required) that a PFD fits the wearer. Don't think you can throw your six year old's life jacket in the back of your boat and pass a Coast Guard inspection. That would be a quick way to end up with a big fine.

When buying a Type III PFD, make sure the fit is snug, but not overly tight. Be sure to try it on with whatever attire you customarily wear while paddling. If a PFD is too loose, when you go in the water it will ride over your head and may not offer enough buoyancy to keep your head above water. While you are in the store trying on your new PFD, grab a paddle and try a few paddling strokes. Make sure the PFD does not impair your range of motion.
PFDs can get uncomfortable on those hot summer days. Some types are better than others and several manufacturers make ones with mesh to allow for more air movement and cooling. Just be sure it offers enough flotation to keep you above water.

Finally, when you get your new PFD be sure to wear it. If you get into the habit early on you'll be that much safer when you fall overboard and into the water. Even for us Florida paddlers in clear, warm water, that time always comes. Be prepared.