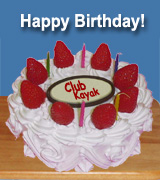 December 31, 2004 marks a special milestone for Club Kayak, as the web site will reach its fifth anniversary. What started in June 1999 as Central Florida Kayak Trips, a simple place to share photos and trip information has grown over the years to a major paddlesport web site. We've added megabytes of information and had millions of page views from Australia to Zimbabwe and most countries in between.
We've seen our share of ups and downs, with usage of the web site mirroring events of our times. Paddling activities, whether sea kayak, canoe or whitewater rafting gained popularity until September 11, 2001, when in a terrible two-hour timeframe, thousands of lives and billions of dollars were lost to terrorist attacks on the United States. All of a sudden, and as it should be, interest in water sports or anything other than security of our families and country seemed trivial.
Following that dark day, life never really did return to normal, but it did return. That is until August and September 2004, when Florida experienced the worst hurricane season to hit the US in 100 years. People stopped talking about paddling the pristine waters of the Sunshine State faster than you can say Charley, Francis, Jeanne and Ivan. Even now, in December 2004, many rivers are filled with downed trees and boat ramps damaged or just plain gone.
Yet, through the tragedy, we see life returning once again. Many homes are getting new, not blue, roofs; facilities at State Parks are being rebuilt and people in Florida's tourism industry are returning to work. To steal the Lee County Visitor and Convention Bureau's moniker, "Paradise Calm" is just around the corner.
Be sure to visit Club Kayak frequently during the next five years. Planned features include attracting new clubs into our little domain, more user interaction and frequent updates to your favorite paddling locations. And finally, thank you dear reader, for coming along on this journey.
See you on the water.

Ed Schessl
FloridaKayaker@gmail.com