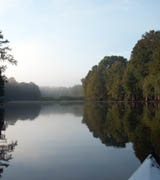 Easy access to spectacular canoe and kayak destinations is one of the great things about living in west central Florida. Crystal clear springs, blackwater rivers, barrier islands, protected saltwater estuaries - we have it all within 50 miles of the Tampa Bay region. We're always looking for new places to dip a paddle and this fall we take a trip on the Withlacoochee River near Brooksville.
The Withlacoochee South (another river in Georgia and north Florida bears the same Native American name meaning "Crooked River"), or "The With", as locals call it, is a blackwater river starting in the Green Swamp near Lakeland. The river twists and turns its way in a northwest direction for about 100 miles before dumping into the Gulf of Mexico by Yankeetown.
It is one of only two rivers in central Florida that flows from south to north and the river is of such ecological and recreational importance that it was designated an Area of Critical State Concern in 1979 and added to Florida's Statewide System of Greenways and Trails a few years later. The official 83-mile long canoe trail begins at the Coulter Hammock Recreation Area in Lacoochee and ends at the US 41 bridge at Dunnellon Wayside Park. Beyond this the Withlacoochee forms Lake Rousseau, a long skinny lake that was created to be part of the ill-fated Cross Florida Barge Canal.
Paddling enthusiasts can experience some of the best waters of the Withlacoochee in a nine mile stretch between the Silver Lake Recreational Area near Brooksville and the small town of Nobleton. Silver Lake features a canoe and boat launch, three campgrounds with electric hookups, and a covered picnic area. Ample parking is provided at all facilities.
To start your "With" adventure, gear up and put-in at Silver Lake. Immediately head downstream toward the I-75 bridge. Here the lake disappears and the river begins to narrow as it twists and turns through cypress and hardwood swamp, live oak forests, palmetto hammocks and an occasional residential area. A short distance past the bridge is a primitive canoe camp that is popular with local scouting troops.
Iron Bridge, your next stop, is about two miles downstream from Silver Lake. This State Forest Day Use Only area is complete with picnic tables and a canoe launch. It makes a great place to get out, stretch your legs, and snap a few pictures before continuing your journey towards Nobleton. If you are quiet and lucky, you might see deer, wild hogs, turkeys, raccoons, alligators, snakes, and many different species of birds.
From Iron Bridge, its three miles to the next State Forest park at Hog Island. This plot of land is actually an island, but don't plan on spending much time here as it is overgrown with vegetation and appears to have more than its rightful share of mosquitoes. The picnic areas, hiking trail and campground are located on east branch of the river across from Hog Island. Be sure to watch for signs indicating the campground cutover. The park makes a convenient place to have lunch and rest up before either continuing downriver to Nobleton (4 miles) or returning to Silver Lake (5 miles).
At about one mile past Hog Island, you'll encounter the first of several residential areas. These eclectic little communities of cottages and mobile homes are on private property, so watch where you land your canoe or kayak, or you may have a close encounter with the owner's dog. In addition to Fido and his canine brethren, alligators appear to be common near the homes. Maybe Fido is on their lunch menu? Since dogs do make tasty treats for alligators, be sure to leave yours at home.
Continuing downstream, the river twists and turns some more while flowing beneath beautiful cypress canopies. The bridge at SR 476 marks the start of Nobleton and the last mile of this journey. From here to the take-out at the community park, houses are prevalent on the west side of the river. Note that water conditions vary with weather and season and after heavy rains, the normal 2 - 3 MPH current flow may increase dramatically. During the dry season, water levels may be low enough to cause portages. So pack your boat, lunch, a few bottles of water and plenty of insect repellent and head up to Brooksville to the Crooked River. You won't be disappointed.
Directions:
From Tampa, go 35 miles north on I-75 to Highway 50 (exit 301, old #61). Turn east (right) and go one mile to Croom-Rital Road. Turn north (left) and follow Croom-Rital for 4 miles to the Silver Lake Recreational Area. At the entrance is a short dirt road leading to the Day Use Area, boat ramp and camping section.
To find the take-out at Nobleton, return to Highway 50 and travel west to Brooksville. Take US 41 north to SR 476. Go east (right) on SR 476 to Nobleton. The boat ramp is located at the community park at Lamkin Drive. The park has covered picnic tables, a restroom and boat ramp.
Shuttling:
For those making a one-way canoe trip to Nobleton and who are not familiar with the process of shuttling vehicles, here are the basics: At the Silver Lake starting point, drop off all boats and at least one person to assemble gear and keep watch to make sure none of the stuff walks off on its own. Next, drive all cars to the take-out at Nobleton (see directions below). Leave all cars, except one which is used to return to the start. After your quest is over, don't forget to retrieve the remaining car at Silver Lake.
See you on the water,
Ed Schessl
FloridaKayaker@gmail.com