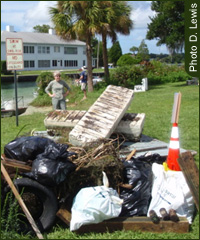 Sooner or later it happens to all of us. With evening approaching, you pull your kayak or canoe up to a prime wilderness campsite only to find it littered with beer cans, burnt plastic and trash everywhere. It's maddening enough to make you want to choke the stuffing out of the person who trashed the site.
Another scenario - you are at a public campground and one neighbor is blasting their stereo at 11pm while the neighbor on the other side has been running a loud RV generator for hours.
Instead of causing bodily harm to some unknown and unconscionable party, you could refer them to this page for a lesson on campsite etiquette. Bonus tip - The lessons shared below are also helpful for teaching children how to act and behave while camping.

Let's jump right in.
Rule #1: Pack out what you pack in. That's right, don't leave trash for others. This also applies when you are camping at state parks or other commercial campgrounds. Don't leave trash at your campsite or in the fire pit. Instead take it to the dumpsters or other approved refuse station.
Rule #2: If fires are allowed, be responsible. Keep the fire small and under control. Don't smoke out the neighbors or burn toxic materials like your broken Styrofoam cooler or plastic plates.
Rule #3: Does your campsite have a porta-potty or composting toilet? If so, don't throw trash, broken camping equipment or food in the toilet. How would you like to be the poor individual who gets to clean these out?
Rule #4: If you are at a public campground, pick up after yourself in the restrooms. No one likes to use a filthy bathroom.
Rule #5: Keep noise and music to yourself. If you can hear your music from more than 30 feet away then it is too loud. Screaming kids and drunken spouses are also culprits here.
Rule #6: Dogs love to go camping but very few campers love stepping in dog poop. Scoop your poop.
Rule #7: Do not feed wild animals including cute squirrels, fuzzy bunnies and harmless raccoons. It does not help them one bit; in fact, frequently animals that have become accustomed to humans must be relocated or destroyed.
Rule #8: Most developed campsites have a quiet time. Be responsible and keep the noise down once the witching hour hits.
Rule #9: If you are camping with kids, keep them under control. Do not allow your children to wander aimlessly through other campsites, play with the neighbors camping equipment or go swimming or hiking by themselves.
Rule #10: And the one rule to bind them all. Each campground or wilderness area has its own unique rules. These are usually posted in some obvious location or may be available with the campground or park brochure. Make it a point to search them out and learn your rights and responsibilities before camping.

So that's it, no more lessons. Just follow the simple campground etiquette shown above and you will be one happy camper and so will your neighbors.