Have you tried Google Earth for trip planning? If not, we can help get you started with this tutorial on how to use Green Wave Forum and Google Earth to plan your next paddling adventure.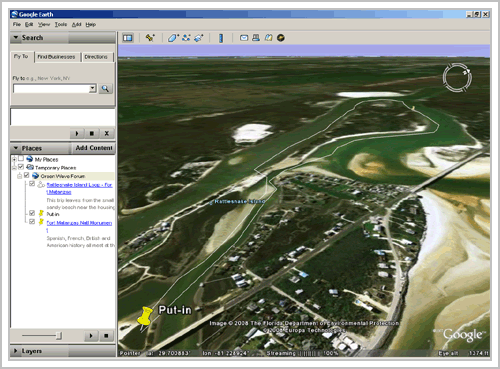 Step #1: Get Google Earth
Google Earth lets you view geographic data - maps and locations - in a way you've never seen before. To get started, download and install Google Earth. You can get it here.
Step #2: Find a Green Wave Forum Trip
We have over 80 locations and 100 trip reports online (as of March 2008). This provides years of exploring without ever leaving Florida. Of course, we're adding more trips so when the original list runs out, expect another 80. Use the Trips link on the left side of this page to select a region and location that you're interested in.
Step #3: Send Location information to Google Earth

After selecting a location (we picked Fort Matanzas National Monument for this example), find the Google Earth link and click on it.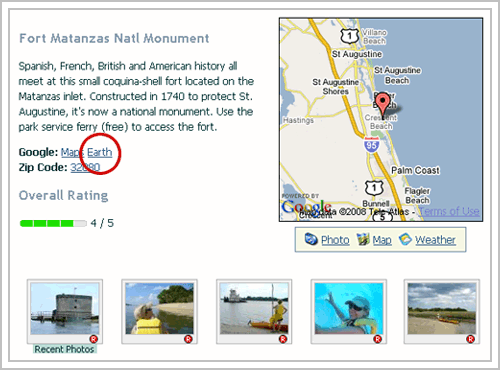 Step #4: Save to your PC

When the popup window appears asking you to open the file or save to your PC, select Open with Google Earth.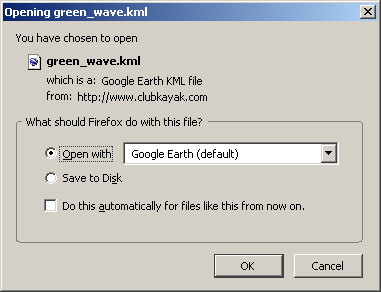 Step #5: Viewing in Google Earth

After a few moments Google Earth will start and the globe will zoom to the location selected. You can move the map around by clicking on the map and dragging with your mouse. Clicking the yellow thumbtack shows a description of the location.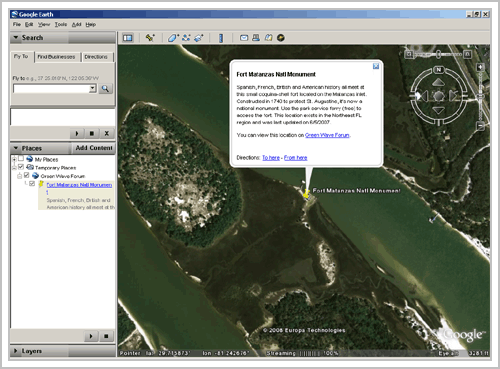 Step #6: Zoom, Tilt and Pan

You can change the zoom level in or out using the controls on the upper right side of the page (vertical slide control). The compass lets you change orientation, while the horizontal slide control lets you tilt the map for a more 3D look. In our example we have zoomed out far enough to see the entire island, making it easier to add waypoints and plotting a path.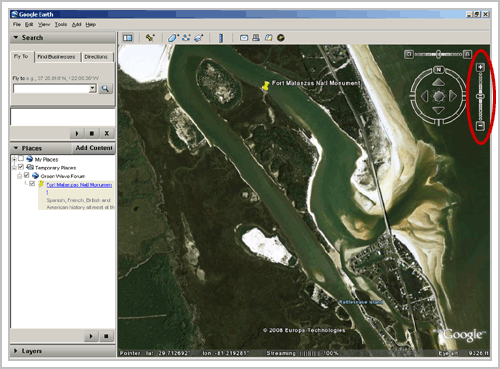 Step #7: Adding Waypoints

Most trip locations in Green Wave Forum have waypoints on either the put-in or the area of interest (in this example Fort Matanzas itself). You can add additional waypoints (called placemarks in Google Earth) by following these instructions:
Click on the Placemark tool on the Google Earth toolbar
Click on the map at the position you want marked. You can click and drag the marker as necessary to reposition it.
In the popup window, enter a name for the new waypoint, e.g. put-in.
Click

OK

to save the waypoint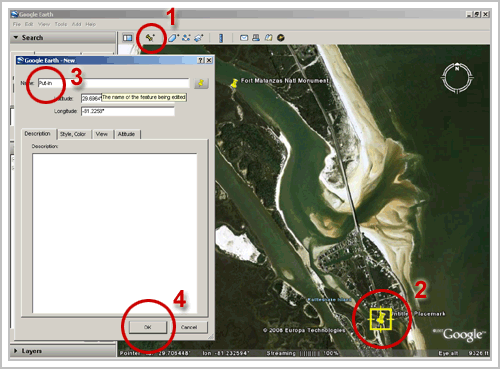 Step #8: Adding a Path

In addition to waypoints, you can add a path to your map so everyone knows the exact route. Be sure to click around objects that you can't go through and follow known paths and/or roadways (for land navigation). Here's how:
Click on the Path tool on the Google Earth toolbar
Starting at your put-in, click on the map. Each click drops a tiny square marker and connects the line to the previous point. Continue clicking until your route is marked. It may be necessary to move the popup window out of the way while you are working on the map.
In the popup window, enter a name for the new path e.g. Rattlesnake Island Loop. Optionally, add a description that will appear when someone clicks on the path's name.

Click

OK

to save the path
Step #9: Saving your Waypoints and Route

When you have finished adding waypoints and paths, you should save your data. To do so, right click on the "Green Wave Forum" item on the "Places" panel. A popup menu should appear. Select Save to My Places to save it on your PC.

Optionally use the Save As to save to a KML file, or pick Share, Post or Email to share the map with your friends.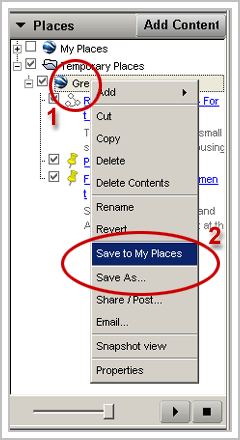 Step #10: Measuring Distances - the missing step

One of the big problems with using Google Earth for trip planning is there is no easy way to measure the length of a path drawn using the "Add Path" tool. Hopefully Google will add this feature to the free version in the near future. Until then, here are a couple of workarounds so you can calculate number of miles to your trip before hitting the water.
Workaround #1: Retrace the path using the Measure tool on the Google Earth toolbar. It's tedious, but works. The measure tool looks like a little ruler on the toolbar.
Workaround #2: The Free Geography Tools website (
http://freegeographytools.com
) has links to Java and Windows programs that you can install on your PC. These read the KML file that you saved in Step #9 and calculate the distance.
Workaround #3: The Whaleycopter Blog (
http://whaleycopter.blogspot.com
) has a measurement tool for PCs. This blog has a really nice example of creating paths and using his KML Path Measurement tool.
Summary
So there you have it, Trip Planning with Google Earth. I'd love to hear from you to see how you use Google Earth or Google Maps for planning your kayak and canoe trips. Drop a comment in the space below.
Have a great trip!
Google Earth is a registered trademark of Google, Inc.