While exploring the
De Soto National Memorial
in Bradenton, Florida, I came across a most unusual tree. Branches going in every direction, like an octupus with too many legs. A soft, shiny red bark with splotches makes the tree appear like it has a massive sunburn. Now I've seen them before, between Sarasota and Naples, but I don't think I have ever spotted one of this size. I bet you are wondering what the tree is.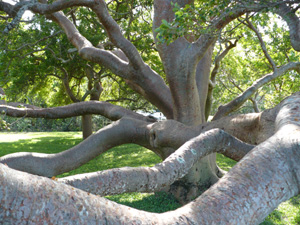 The "Tourist Tree". Why? Because it stands in the sun, turns red and peels!
Ta da... the Gumbo Limbo tree. It's also known as the West Indian Birch or Gum Elemi. For the scientists out there, they will recognize it by Bursera simaruba. The tree is native to Florida and according to park literature, it ranges from Cape Canaveral and Tampa Bay southward. It can also be found in the West Indies, Central America and Mexico.
A mature tree can grow to 60 feet in height and have a trunk over three feet in diameter. This one at De Soto National Memorial was perhaps even bigger.
A little Internet research later, I found out the Gumbo Limbo is popular in landscaping. It has a fragrant resin that is used for incense and its leaves are sometimes used for making tea.
They also say the sap makes for a "healthy" laxative, but I'll leave this for you to try. Important: If you are on a game show and need the answer to "what is the most popular wood for manufacturing carousel horses", you now have the answer - Gumbo Limbo.
While we are on the subject of trees, the tiny 26-acre De Soto National Memorial has an abundance of other species. You'll spot Black, Red and White Mangroves along with pine and mixed hardwoods.
If you are in the Bradenton area, be sure to stop and visit De Soto National Memorial and check out the trees! Of course, be sure to also check out the rest of the area including Camp Uzita and the visitor center.