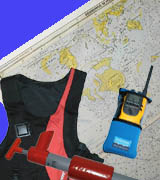 No matter what type of paddling you do, it's inevitable that you'll get wet. While that's certainly part of the fun, it loses its appeal when it comes time to clean and store that pile of wet, messy boats and equipment. Keep on reading and we'll help you become more efficient at cleaning up after your paddling adventure.
In general...
Unless you have money to burn, it's imperative that you take precautions to ensure that your equipment will remain usable for many years. Never store any equipment wet. Salt water is particularly nasty and will cause deterioration of materials quickly.
Boats.
Washing the exterior off with fresh water will increase the life of your canoe or kayak. Interiors should be washed, but leave no standing water inside the boat and leave all hatches open (or covered with fabric) to allow air circulation. Don't leave wet gear in or hanging on your canoe or kayak. If your boat is stored outside, cover openings with a breathable fabric to keep insects and animals out.
Paddles.
Be sure to rinse paddles in freshwater. If you have a take-apart paddle, rinse the inside of the paddleshaft too. Paddles are best stored if hung vertically by the blade on long garden tool storage hooks.
Clothing.
One of the easiest ways to destroy high-quality paddling clothing is by putting it up wet. Storing wet clothing in warm weather can start the mildew process in as short as 24 hours. To avoid mildew, clean and thoroughly dry all clothing and cloth articles, such as spray skirts, deck bags, etc. as soon as you return home from your paddling trip.
If you have neoprene items, such as wetsuits or pogies, give them a conditioning bath with a gentle cleanser, rinse and air dry before storing. Store wetsuits on a padded hanger. For drysuits and paddle jackets, hand wash using a mild soap. Rinse thoroughly and dry.
Electronics.
Generally, you'll want to follow the manufacturers' advice for cleaning and storing. You can find this information in the instruction manually. You didn't throw it away, did you? I like to remove the batteries before storing electronics for an extended time. Just be aware that items like Global Positioning Systems (GPS) can lose stored data if you remove the batteries for more than a few minutes.
So, there you have it. Clean and dry gear is happy gear. And that saves you money.
Ed Schessl
FloridaKayaker@gmail.com