New kayakers frequently ask the question "Do I need a rudder?" Like many other questions, the final answer is based on a number of variables, such as what type of boat are you planning to purchase, where are you going to paddle that shiny new boat and your skill level.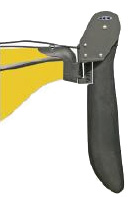 In case you're not familiar with how they work, a rudder is a plastic or metal fin that is attached to the stern (backend) of a kayak. The rudder is lowered into the water using a cable or cord. A second set of cables is attached to foot pedals in the kayak. A paddler presses on a pedal to adjust the rudder, which makes the kayak go straight or turn.
Rudders are especially helpful in strong currents or winds. When the wind blows across the deck, the kayak will weathercock (turn) into the wind. Add waves rolling under the boat or tides going perpendicular to your direction of travel, and you'll quickly see that it is difficult to keep the kayak going in a straight line.
With a rudder, you can adjust the direction of the kayak while keeping your paddle stroke even on both sides. This will help maintain speed of the boat. Without a rudder, in currents and winds, you will need to paddle more on one side to keep the boat from turning into the wind. This causes your paddle stroke to be uneven and leads to fatigue and loss of speed.
In addition to keeping the kayak going straight, a rudder lets you turn the boat without adjusting your paddle stroke. You can turn wide or tight, depending upon how far you depress the foot pedal.
Those are good things but before you go out and purchase a kayak with a rudder or have one added to your boat soon afterward, there are some drawbacks that you should know.
Rudders add approximately $100 to $200 to the cost of a kayak and not all kayaks can be equipped with a rudder. In fast moving water you need to turn quickly, not track straight, so rudders are of little use.
Rudders are mechanical items, granted they are simple, but must be maintained and can become jammed by sand, dirt or other items falling into the mechanism. Running into things can damage rudders and they are impractical in shallow water as they protrude below the bottom of the kayak.
A disadvantage for advanced kayakers is many performance moves - bracing, skulling and rolling included - are more difficult to do with a rudder. It also holds true for rescues and towing.
So there it is, points for and against adding a rudder to your new kayak. Now ask the question again - "Do I need a rudder?" Here's my reply:
Get a rudder if:
You paddle long distances on coastal waters or make long open water crossings
You are in an area with strong winds or tides
You are planning on adding a sail to your kayak
You have an extra $100 - $200 to spend on your kayak
Hope this helps you make a good decision and leave a comment below with your thoughts or questions.