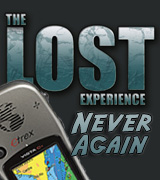 Although some of my friends may say that I am perpetually lost, I can only recall three times while kayaking during the past eight years. Now I'm not counting those instances where it's 10 or 15 minutes of temporary disorientation. Everyone has those. I'm talking about experiences that leave you wondering if you are going to make it out of the woods, river delta, etc before nightfall.
The first time was the worst. It involved spending about 6 hours paddling back and forth in the Homosassa River sawgrass and a summer thunderstorm to cap off the adventure. Nothing like a torrential downpour and nearby lightning to get you quickly moving in the right direction. I had a deck-mounted compass, but without a map and knowing where the heck you are in the first place, using the compass was limited. "Go west, eventually hit open water, go south, and find the river channel." I learned that day that sawgrass marsh channels do not go in straight lines so to go west it was more like "go north a bit, go east a bit, go south some, go west a few more feet, repeat." The very next day I went to West Marine in Tampa to purchase my first GPS.
That was 1999 and GPS units were not as plentiful and more expensive than units you can buy today. Spending about $350 for a Garmin GPS III Plus seemed excessive, but getting fried to a crisp by lightning in some sawgrass marsh would have been even costlier. My GPS III was a solid performer for three years until one day it flooded with saltwater. Not sure how it happened, but the next time I turned it on, the electronics were completely destroyed. I sent it back to Garmin for repair and they sent me a brand-new unit for only $99. Great company to work with. I still have the GPS III and yes, it still works just fine and has over 450 waypoints mapped for Florida paddling trips.
In addition to the GPS III, I have another Garmin, the eTrex. This one doesn't have built-in mapping (some do), but for $89 it has been durable, flood proof and saved me from getting really lost since I can tell the starting point, where I've been and with some prior planning, even where I'm going.
GPS Buying Tips:
Determine what you want to do with the GPS. Will it be used for 90% automotive and 10% paddling or the other way around? If you're taking it on more car trips than kayak trips, choose a unit that has better base maps and land navigation. If you're going paddling, make sure the unit is water resistant, with easy push button controls.
Color screens are great, but if possible check it out in bright sunlight before buying. Many color LCD screen washout in bright light, which makes them just about useless on a boat.
Maps. I highly recommend a unit with maps. Some of the lower cost mapping units have fixed US and Canada maps. You can get units that let you download maps. Remember, these maps cost additional $$$ and require a computer connection so be prepared. With that said, mapping GPS units are definitely the way to go.
Channels. Make sure it has 12 channels. Almost all newer devices do.
WAAS. It stands for Wide Area Augmentation System. If you live in North America, get a GPS that supports WAAS. They are about 5 times more accurate than units without.
Memory. Just like your computer, the more memory a GPS has, the more information it can store. At minimum, get a unit that can store at least 500 waypoints, 20 routes and at least 10,000 point tracking. This usually takes 1 megabyte (without maps). An 8 megabyte or larger unit is even better.
Battery Life. Make sure that you get a unit than can run for at least 12-16 hours on a set of batteries. This should get you two good days on the water, or one day if you're a maniac. You don't want to change batteries or run out of juice in the middle of a trip.
External Antenna. Some units have a connector for an external antenna. For paddling, this is really not necessary, but if you're using the GPS in your car, it might be handy.
Computer Interface. Make sure it says "NMEA compatible". This is the standard for GPS units.
Waterproof. Yes. Yes. Yes. You can always put a GPS in a waterproof bag or box, but ideally it can be mounted to your deck and not suffer any negative effects from being exposed to the elements. Make sure it's good for at least 6 feet and 30 minutes.
Accessories. A car cigarette lighter power attachment is always handy for long trips.
Finally, Practice. Take the GPS out for a walk around the block or maybe even a bike ride before taking it on the water. You'll get used to operating the unit, setting waypoints, track-back and other good stuff. Reading the manual helps too.
Links:
CoPilot GPS Software / Hardware for Pocket PC devices
Delorme GPS for Pocket PC / Laptop Computers
Hope to see you on the water, especially if we're both wandering around lost!
Ed Schessl
FloridaKayaker@gmail.com