PART 2 - PARTICIPATION

This is the second part of a three part series on Building a Paddle Club by Hank Brooks and the Tampa Bay Sea Kayakers.
Building Participation
Rule of Thirds: An investigation into our club membership and participation has found that we could divide the membership into three categories. I call this the "Rule of Thirds". About 1/3 of the people are very active, 1/3 are moderately active and 1/3 we never see. My "guess" is that most clubs have approximately these divisions of members.
Portion of Membership
Paddling
Frequency
Attends
Meetings
Probability of
Renewing Membership
1 / 3
Weekly to once a month
6+ per year
High - very active kayakers who support the club
1 / 3
4 to 6 times
per year
2 to 4 per year
Medium - Have many activities in which they are involved
1 / 3
Once a year
on vacation
Seldom if ever
Low - kayaking does not fit into their life as a regular activity
Problems With Most Clubs
As with most clubs, about 10% of the club members do 90% of the work in the club. This past year we have been frustrated in getting sufficient members to lead club-sponsored trips and to participate in the events that we did schedule. We have also noticed that many members are not renewing their membership. We decided that we needed a strategy to overcome these problems. That's when we formed our Marketing Committee.
Goal To Build Membership and Club Participation
We broke our goal into two parts:
Bring in New Members. The theory here is that if you have 200 members in your club you have 20 "worker bees" (10% of club membership). If you have 350 members, there will be 35 "worker bees" to help lead the club and it's activities. So our goal became to increase our membership from 200 to 350 members.
Increase Member Participation / Avoid Losing Members (we believe that the strategies to increase member participation also will help avoid losing members)
Strategies To Employ
There is probably not one "magic bullet" to solve these problems, but rather a whole system or "bunch of things" which we must do to help solve our problems. We broke our strategic approach into four factors:
Club Members - recruiting new members through their solicitations
Kayak Shops - which carry our recruiting brochures and recommend our club
Advertising and Publicity - getting the word out about our club
Club Policies, Practices , Paddles - this includes everything from our dues structure to the types of paddles we have each month
Putting it all together in model or graphic form, it looks like this: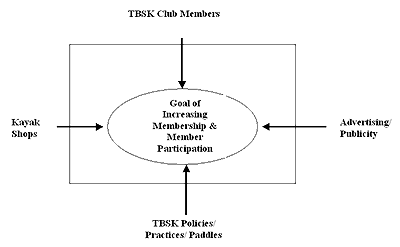 Part 1:Getting Started, Part 2:Participation, Part 3:Membership