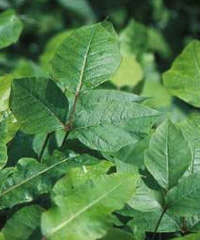 Few things spoil a camping or paddling trip quicker than a handful of poison ivy and us Florida paddlers need to know what to look out for when we're in the woods. To get you started, here is a quick guide on this unfriendly plant.

Identification
Time to learn a few simple rhymes:
Leaves of three, let it be
Hairy vine, no friend of mine
Poison Ivy is a three-leaf plant can be found growing on the ground or even climbing trees, rocks and other objects. In addition to three leaves and a hairy vine, there are no thorns along the stem and during certain times of the year you'll spot green or white berries on the plant.
With poison ivy, new leaves are shiny and somewhat reddish. Older leaves are duller. It usually grows in areas of disturbed ground, such as on the edge of trails, fields, along roadways and bridges. When poison ivy grows near saltwater it tends to have curly, waxy looking leaves.

Symptoms
Some people are immune to poison ivy and its cousin's, poison sumac and poison oak. Unless you are one of the lucky ones, you will develop a rash after coming into contact with the plant. Symptoms usually develop within 8 to 24 hours. They include:
Itchy rash
Red bumps
Vesicles and blisters that are filled with fluid

Treatments
Acting quick after exposure is important. Within 10 minutes you should:
Clean the area with rubbing alcohol
Next, wash the area with generous amounts cool water - do not use soap yet
Now apply special soap or cleanser to remove the oil that was left. Products such as Zanfel, Ivy Cleanse Towelettes, and Tecnu Scrub will work.
Be sure to avoid contact with contaminated clothes until they are laundered.

Too Late?
Already got the itch and bumps? Calamine lotion and Cortizone 10 are popular treatments to sooth the itch. Also a variety of antihistamines, bentoquatam and other antipruritics will provide relief. Look for these at your friendly neighborhood drug store.