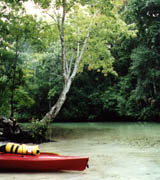 On Easter Sunday in 1513, Juan Ponce de Leon landed on the sunny shores of "Pascua de Florida". His primary objective, besides the usual gold and silver, was to find a mystical spring where one drink of its elixir-like water would bring health and eternal youth. Unfortunately for Ponce, he never did find his Fountain of Youth and ended up dying from a poison arrow.
But who can blame Ponce de Leon for trying (and failing)? With Florida's 300+ springs finding just the right one would be difficult at best. Most of the springs in the State are artesian, meaning that water is forced up through the ground from tremendous pressure. This causes a "boil", giving the water a bubbling like appearance at the spring head. Water at the springs is typically 72 degrees Fahrenheit and crystal clear. Numerous species of fish, plants, invertebrates and birds live in or near the clear, cool water. During the spring and summer, you can also find many Floridians and tourists in and around the springs too! The springs range in size from a slight trickle to the immense Silver Springs pumping out over 550 million gallons a day.
Florida's springs are ideal for many activities including swimming, diving, canoeing and kayaking. Paddling along the springs and spring-fed rivers is an incredible experience where a view beneath the water's surface is like looking down into an aquarium. Some of the most popular springs on the west coast of Florida are Homosassa, Weeki Wachee, Manatee, Silver and Rainbow (all ending in Springs). On the east coast look for Wekiwa Springs, Blue Springs and De Leon Springs.
To begin your spring fling, start with a short boat. Navigating twisty, tight turns can be a real chore in your 17 foot ocean going sea kayak. A 12 foot plastic kayak or short canoe is ideal for spring trips. Pack a good paddle, PFD, swimsuit, diving mask, camera, suntan lotion and bug repellent. Located close to many of the popular springs you should be able to find canoe outfitters eager to rent equipment or provide guide services. Most outfitters will also provide a map if you ask nicely.
Don't expect class III or IV rapids on a spring run (or any rapids at all). Most often the water meanders its twisty course at a leisurely 1 or 2 miles per hour. The biggest challenge is usually avoiding sunburn or pesky mosquitoes. Have fun on your spring trip and wherever you put-in, be sure to check the water. It just might be the Fountain of Youth.
Enjoy your spring fling.
Ed Schessl
FloridaKayaker@gmail.com