TS Matthew| Jeanne| Ivan| Francis| Charley| TS Bonnie


Mother Nature unleashed her fury against Florida, land of orange sunsets, blue skies, warm tropical breezes and great paddling opportunities. This mecca for resident and tourist alike has quickly transformed into the land of long lines at gas pumps, limited services, blue tarps over destroyed homes and shredded mangrove islands. Damages are reported in the tens of billions and many lives have been lost due to the howling winds and torrential downpour. And it's definitely been one for the record books. The last time a single state was hit by four hurricanes was Texas 118 years ago.




While paddling opportunities exists in all locations affected by these storms, caring individuals will give the communities a chance to return to normal. Demands for services and goods must go to residents first.

So, it is with this thought that Club Kayak recommends you postpone your visit to the areas hit, and instead try a new lake, river or seacoast in another part of Florida. It will take weeks, or in some cases, many months, for life to begin to return to normal in cities like Punta Gorda and Pensacola. When it does, bring your American Express, Visa, MC or good old greenbacks and support the community like crazy.
If you would like to help now, please donate to the American Red Cross at www.redcross.org.

It's Over - Storm Season 2004

Last Update: 12-14-04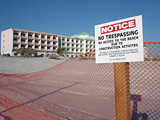 December 1st brought an official close to the 2004 Atlantic Hurricane season. In all, six hurricanes hit the U.S. with four striking Florida over a 38 day period. The names Charley, Frances, Ivan and Jeanne will not be forgotten anytime soon and will hopefully be retired from use by the Hurricane Center in Miami.
This season taught us a few things about nature. One, what man can construct, nature will eventually reclaim. Two, hurricanes don't necessarily follow a straight line on a map. Three, nature doesn't discriminate. Race, ethnicity, social status and political boundaries don't influence nature in the slightest.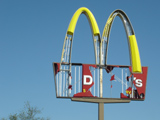 Finally, the last lesson is on human nature. In time of need you can count on your family and neighbors. While a tropical storm can take our possessions, it can't take our spirit to help one another.

Name: Matthew
Category: Tropical Storm
Landfall: 10-10-04, 40 miles west of New Orleans
Windspeed: 40 MPH
Destruction: Minor flooding and erosion in Florida.
Additional damage to homes with roof
damage from Ivan.
Paddling: Still affected by Ivan.
Last Update: 10-15-04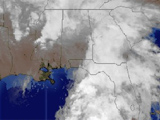 Matthew Misses. Tropical Storm Matthew, much like the first storm to affect Florida, TS Bonnie, dumped an unwanted 3 - 4 inches on already rain soaked Pensacola and northwestern Florida. Generally sparing the state, Matthew made landfall in Southeastern Louisiana near New Orleans. Pensacola experienced winds to 30 mph and additional beach erosion.

Name: Jeanne
Category: 3
Landfall: 9-25-04, Hutchinson Island, near Stuart
Windspeed: 120 MPH
Destruction: Extensive, but difficult to separate from
that of Hurricane Frances.
Paddling: No in affected eastcoast areas for 3+ months
Last Update: 9-28-04
Copy Cat Jeanne. 11:50 pm EDT September 25 marked Hurricane Jeanne's landing at Hutchinson Island; a scant three weeks after Frances and just one week after Ivan pounded Pensacola and the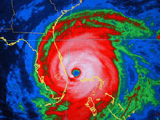 western part of the State. Hurricane Jeanne caused the evacuation of 2 million people along the Atlantic coastline from the Florida Keys to Georgia. Surprisingly, Jeanne's track put the hurricane only two miles from Sewall's Point, where Frances first struck U.S. soil. The hurricane stayed on course until hitting Pasco County on the gulf side of the State. There it veered sharply north, remaining over land until reaching Georgia. The last time a major hurricane hit the Treasure Coast prior to Jeanne and Frances was 1949. Damage in the U.S. is expected to reach $6.5 billion.
Jeanne brings two additional concerns to residents in it's path; debris from construction and previous hurricanes become missiles to batter already damaged homes and substantial flooding as the ground is saturated and lakes are rivers are filled to capacity.
Prior to arriving in Florida, Jeanne tore across the Caribbean, leaving the Bahamas submerged under feet of water. Most devastation was on the island nation of Haiti, where damage from the storm was blamed for more than 2,000 deaths.

Hurricane Ivan
Name: Ivan
Category: 3
Landfall: Gulf Shores,Mobile-AL; Pensacola, FL
Windspeed: 130 MPH
Destruction: Catastrophic in coastal areas, heavy others
Paddling: No in coastal NW FLA and Alabama for months
Many services and infrastructure destroyed
Last Update: 10-11-04
Ivan: Pensacola Update. 10-11-04 Parents rejoice. After nearly a month, school in Escambia and Santa Rosa Counties opens today.
Ivan: Hurricane Update. 9-21-04 U.S. death toll from Hurricane Ivan is expected to reach at least 52 after a weekend of floods and tornadoes from Florida to Pennsylvania. More than 250,000 are without power.
Ivan: Pensacola Update. 9-19-04 Caught in Ivan's dangerous northeast quadrant, Pensacola bore the brunt of the hurricane's destruction. The Pensacola Naval Air Station had every building damaged and is reported to be closed for some time. The barrier island communities of Pensacola Beach, Gulf Breeze, Perdido Key and Navarre Beach, devastated. Spawning numerous tornadoes, Ivan's damage inland was extensive. With 1/4 mile of missing spans, the Escambia Bay Bridge (I-10) will be closed for weeks. Reports say it will take several months to get both lanes reopened.
A few bright spots for P'cola; Most major roads in the city are now open. Hospitals have power and the Pensacola Beach water tower painted like a giant beach ball still stands. Finally, a small spray painted sign in front of a home says, "We survived Ivan the Terrible." Pensacola will be back.
Ivan: Tampa Bay Update. 9-16-04 Tampa Bay residents breath a sigh of relief after Ivan passed well offshore. Rainfall from Ivan caused additional flooding to rivers and water backed up in the bay putting low-lying areas such as the community of Shore Acres underwater. Most bay area beaches lost feet, if not yards of sand from Ivan's 8-foot waves.
Ivan Hits. Florida Governor Bush was right in his assessment [below], and on September 16 at about 3am, Hurricane Ivan became Ivan the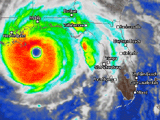 Terrible. Ivan hit in early morning hours at Gulf Shores, AL with 130 MPH winds, driving rain and a 10-16 foot storm surge. Ivan left a trail of destroyed homes, leveled businesses, and in some places like Pensacola, Florida, no water, electricity, operating hospitals or roadways to access the city. At the time of this report, emergency services are enroute to help residents along the panhandle of Florida and gulf coast area of Alabama and Mississippi. Early estimates are over 40 people dead and $4-10 Billion in damages in the US.
Ivan: Go Away! 9-11-04 Hurricane Ivan is now bearing down on Cuba after passing just to the west of Jamaica. The Florida Keys is in a state of evacuation for the entire chain of islands. It is the third evacuation in a month for tourists. Current predictions show Ivan will pass off the west coast of Florida and hit somewhere along the panhandle in 3-4 days time.
"Ivan has the potential to be worse than anything we've ever seen so far," Florida Governor Bush said of Hurricane Ivan, which is the worst storm to hit the Caribbean in a decade. Ivan left the tiny island nation of Grenada with 60,000 homeless and many of the island's 95,000 residents are without food, water, shelter and electricity.


Name: Frances
Category: 2
Landfall: 9-4-04, Stuart
Windspeed: 105 MPH
Destruction: Extensive
Paddling: No in affected eastcoast areas for 2+ months
May be ok on the westcoast after 2 weeks
Last Update: 9-18-04
Frances: Melbourne, Cocoa Update. 9-18-04 Good news. Life is getting easier for many residents of Brevard County. While homes are still damaged and waiting repair; most shelters, water/ice/comfort stations are no longer needed. Boil water orders have been lifted. FPL (Florida Power & Light) estimates 1,700 customers are still without power, mostly in south Brevard County.
Frances: Space Coast Update. 9-11-04 From Cape Canaveral to Stuart, sporadic patches of homes are still without power and the rumble of small generators can be heard. Many homes, especially mobile homes are uninhabitable and businesses damaged. Top selling items at open stores include batteries, plywood, trash sacks and ice. Storm water drainage, along with all kinds of sewage was dumped into the Indian River Lagoon system. According to experts, it's very likely to affect health of the ecosystem including some fish and sea grass kill for months to come.
Frances: Tampa Bay Update. 9-11-04 The Alafia, Hillsborough and Little Manatee rivers are above flood stage, causing flooding of homes and roadways. Power continues to be out for 5,000+ homes in the Tampa Bay area (down from 260,000+ earlier in the week). Flooded streets in some areas of south Tampa is still a problem. Retention ponds are full. Tree limbs, roadway and business signs, debris from the storm litter lawns and streets. Some outlying areas do not have electricity or freshwater utilities. MREs (Meals, Ready-to-Eat) is now a popular dish in many shelters. No one is thinking about paddling. Except possibly those trying to get down Fowler Avenue in Tampa.
Frances: IRS Extends Tax Filing Date. 9-10-04 For counties designated as presidential disaster areas (due to storms, not voter registration), the IRS has extended quarterly tax filing due September 15 to December 30.
Frances Marches Ashore. At 11:40PM EST on September 4th, Frances made landfall at Stuart, some 35 miles north of West Palm Beach, Florida. The category 2 storm with 105 MPH winds devastated barrier island and coastal areas with storm surge flooding, battering waves and high winds. Hardest hit were Palm Beach, Martin and St. Lucie counties. Some locations received as much as 26 inches of rain during the storm. Homes, businesses, parks and beaches along I-95 and A1A sustained damage.
Moving in a west-northwest direction at 9 mph Frances tracked across the Florida peninsula and exited at Hernando County on the Gulf of Mexico late Sunday night. Storm surge flooding of 4 to 8 feet was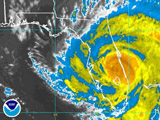 experienced in the Tampa Bay area. On Monday, September 6th, the hurricane was downgraded to a tropical storm and Frances attacked the Florida panhandle, landing at St. Marks, about 20 miles south of Tallahassee. Rainfall amounts of 6 to 10 inches were common along Frances' path and fallen trees blocked roads and power lines were down across the state. The citrus crop took a severe beating, with some estimates coming in as high as one-fourth of the worlds' supply of grapefruit lost this year. The storm accounted for 23 deaths and $2-4 billion in damages so far.


Name: Charley
Category: 4
Landfall: 8-13-04, Cayo Costa; Fort Myers; Punta Gorda
Windspeed: 145 MPH
Destruction: Extensive
Paddling: Forget it in affected areas for months
Last Update: 12-20-04
Charley: Good News from Cayo Costa. 12-20-04 The Florida State Park's web site on Cayo Costa shows Cayo Costa State Park will allow overnight camping starting December 20th. Apparently repaired are 30 campsites and 12 cabins. Contact the park service at 941-964-0375 for more information.
Charley: Cayo Costa Update. 9-10-04 According to Reggie Norman, Park Manager at Cayo Costa State Park (located by Pine Island, Florida USA), the park sustained significant damage as a result of Hurricane Charley. All cabins were destroyed or are otherwise uninhabitable. Photos from the island show nearly complete deforestation and mass destruction to park facilities. It is unknown when the park will re-open to visitors, however in late August heavy equipment was moved onto the island to start repairs. Private vessels are permitted to use the beach area on the west side of the island. The Barrier Island Parks Society (BIPS), a non-profit community support organization is accepting donations to benefit the local state parks affected by Charley. Please send donations in check form to BIPS Relief Fund at PO Box 637, Boca Grande FL 33921. Their website is www.barrierislandparkssociety.org.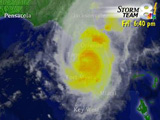 Charley Hits. Friday, August 13, 2004 was definitely a very unlucky day for many Floridians. Charley, a fast-moving category 4 hurricane, made landfall at Cayo Costa, just north of Captiva Island, Florida at 3:45 PM EDT. Winds at were estimated at greater than 145 mph. According to local news agencies, about 70% of the homes on nearby Pine Island were destroyed. Storm surges in the surrounding area ran 10-13 feet above normal sea level. Damage continued with Charley traveling northeast through Central Florida. Winds in Orlando measured over 90 mph. Charley exited Florida northeast of Daytona Beach at 1:00 AM EDT Saturday, August 14. Damage to Florida currently stands at over $6.8 billion dollars and 25 deaths.

Name: Bonnie
Category: Tropical Storm
Landfall: 8-12-04, Apalachicola
Windspeed: 50 MPH
Destruction: Light to none
Paddling: Ok in all areas following the storm
Last Update: 9-3-04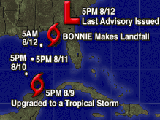 Bonnie Fizzles. Tropical Storm Bonnie, the second named storm of the 2004 season, makes landfall along the panhandle of Florida at Apalachicola on August 12 at 11am with 50 MPH winds and torrential rain. Bonnie weakened as it moved inland, and within 6 hours winds were down to 35 MPH. Already rain soaked, several parts of Florida pick up an unwanted 2 to 3 inches of rain. Ending on a positive note, many surfers enjoy the additional wave height.


Ed Schessl
FloridaKayaker@gmail.com