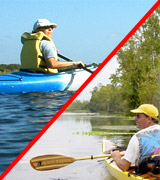 To Wear a Personal Flotation Device (PFD) or Not to Wear? That is this season's question, and it's a hotly debated topic among paddlers of all ages and skill levels. Regardless to which camp you subscribe, the United States Coast Guard (USCG) statistics might surprise you, so read on.
A PFD, or commonly known to many as a Life Jacket, is an important safety device that should accompany every paddler. In fact, many states and the USCG require boats, motorized or not, to have a flotation device for every person on board. As educated, informed adults we know what is good for us. But not everyone (author included) is consistent about donning their PFDs.
Here are some common excuses for not wearing a PFD:
1. It's a hot day.
2. It's too heavy or fits poorly.
3. It restricts movement.
4. It makes me look fat.
5. The water is only 3 feet deep.
6. It makes a good back rest or seat.
Being a Florida paddler, and especially in the summer months, I've used the #1 excuse many times. Was it smart? Probably not, and here's why...
According to a USCG report, "In 2002, nearly nine out of ten of all drowning victims were not wearing their life jackets." If you think that only applies to power boaters and Personal Watercraft (PWC) owners, think again. 78 of the 750 deaths were in canoe and kayak type boats. Surprisingly, PWC accounted for only 71 deaths, far lower that I would have expected given the general attitude of most PWC owners. Do you know when most accidents happen? According to the same report, they occur on bright, sunny days during the summer months on calm waters like lakes, reservoirs and slow moving rivers.
Here's the good news. In 2002, with 13 million registered boats and watercraft there were only 524 drownings and 226 "other" boating deaths. So, your chances of accidental drowning pretty miniscule.
What should you take away from these statistics? First, I'd argue that if you go paddling alone and choose to not wear a PFD, you should reconsider your behavior. While chances of being knocked unconscious by a boat, bird, flying fish or whatever is slim, if it happens, you're dead. Since you have to carry the thing anyway (or face a stiff fine here in FLA), you should wear it. It just might save your life one day.
Stay Safe,
Ed Schessl
FloridaKayaker@gmail.com