This article originally appeared in a section of ClubKayak.com called "Club Kayak Views". It was the first article posted on ClubKayak.com way back on December 31, 1999, the day that Club Kayak went live on the Internet.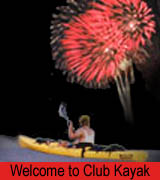 And welcome to a new online paddlesport guide. As such, Club Kayak's mission is to provide our online friends with the accurate and timely information that is needed to get the most out of kayaking and canoeing in Florida. With a few simple clicks of your mouse, you'll soon find new activities, adventure trips and paddling destinations.
We're also working with the paddling community to provide you with member-focused products and services. We offer a number of different advertising products to meet any company's needs.
We're happy that you are starting the new millennium with us. Expect to see numerous changes in the next year. While our website will grow and redecorate occasionally, we'll always maintain our focus on bringing you the best of coastal and whitewater kayaking, canoeing and rafting.
Please let us know if you have any questions, suggestions, or note any errors on this website. As always, we are happy to answer paddling related questions. E-mail them to the address below.
Best Wishes,
Ed Schessl
FloridaKayaker@gmail.com