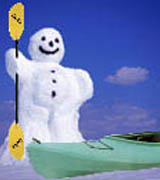 Brrr... It's definitely getting chilly this time of year. Ok, maybe it's not really all that cold here in Tampa, but much of the United States is under a big blanket of snow. Besides being conducive for skiing and snowboarding, winter months present opportunities for the paddler. For those living in Northern climates where lakes, rivers and (heaven forbid) the saltwater freeze over, paddling may be limited to traveling to warmer climates. However, if you are lucky enough to have open water and the proper equipment, you may want to dust off the boat on those warm winter days.
A few notes about cold weather (and cold water) paddling: Dress for the water temperature, not the air temperature. Make sure your head, hands, and other extremities are well protected. Wear clothes in layers that you can take off or put on as conditions change. If you begin the perspire while paddling, slow down and rest. Make sure you select clothing that has the ability to retain warmth, even when damp. There are a number of good synthetic or wool garments that will meet your paddling needs. If the water and air temperatures are below 60 degrees Fahrenheit, you will want to invest a wet suit or dry suit.
Of course, there is another way to paddle during the winter months and easily limit your risk of hypothermia. It involves visiting the sub-tropical latitudes of Florida and the Caribbean.
Come on down, we'd love to see you on the water.
Ed Schessl
FloridaKayaker@gmail.com