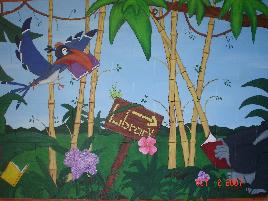 The club has a small collection of DVDs and books available for checkout to club members. Because the library is small, each member is limited to checking out one item at a time for a 2 week period. To request a checkout please contact Ellen Dewkett at
edewkett@bellsouth.net
. Leave a message on voice mail if there is no answer on the phone. You will be contacted to make arrangements to deliver the library item to you, either at a club meeting or other event. If the item is already checked out, your name will be placed on a waiting list, and you will be notified when it is returned.
If you have a book, CD or DVD that you would like to donate to the club library, please contact Mariam and let her know, or bring it to a meeting. It doesn't have to be related to kayaking or canoeing. Books on hiking or nature are also welcome.
Below is a list of the items the club currently owns with a short description of each item.
Books
Foster, Nigel. Guide to Sea Kayaking in Southern Florida : the Best Day Trips and Tours from St. Petersburg to the Florida Keys.
Guilford, CT: The Globe Pequot Press, 1999.
Includes directions, maps, and places to eat and stay.
Huff, Sandy. Paddler's Guide to the Sunshine State.
Gainesville: University Press of Florida, 2001.
Includes directions, maps, and good descriptions of what you will see along your route.
Hutchinson, Derek C. The Complete Book of Sea Kayaking, 5th ed.
Guilford, CT: The Globe Pequot Press, 2003.
Includes information about equipment, stroke techiques, rolling, rescues weather, and navigation.
DVDs
E.J.'s Rolling and Bracing.
Learn, teach or improve your keay kayak skills, the Eskimo roll and the brace.
The Kayak Forward Stroke.
Demonstrated by Greg Barton and Oscar Chalupsky. Includes advice on correct techniques, choosing equipment, and correcting common mistakes.
The Kayak Roll.
Demonstrates and explains a smooth and effortless roll. Designed for every skill level, beginner to teacher.
Labrador 2005 Expedition
Description of the journey made by four American paddlers along the northernmost coast on the east coast of North America. One of the participants on the trip was Russell Farrow, co-owner of Sweetwater Kayaks in St. Petersburg, Florida.

Nigel Foster's Sea Kayaking Series
Volume 4 - Rescues
Learn how to empty a kayak at sea, re-enter your own kayak and take charge of a rescue until the swimmer is safely back in his boat.
Volume 5 - Forward Paddling
Learn good blade placement, efficient application of power and how to keep a straight course without wasting energy.
Volume 6 - Rolling and Bracing
Shows non-intimidating ways to learn a roll and examines the essential components of different braces and a variety of rolling techniques.
Sea Kayaking : the Ultimate Guide.
A four part video by World Champion kayaker, Ken Whiting, and expert sea kayaker, Alex Matthews. Part 1 introduces new paddlers to the sport. Part 2 focuses on the essential strokes and techniques. Part 3 looks at rescue techniques. Part 4 deals with more advanced paddling techniques.
Seamanship for Kayakers : Getting Started.
Provides a balanced introduction to sea kayaking, including basic paddling technique, navigation, weather, and equipment and boat handling skills. The video follows 2 groups of paddlers, explaining what they need to know to deal with situations they encounter.
This is the Sea Two.
Provides 90 minutes of kayaking action in Japn, Norway, Newfoundland, Wales and the Manitou Islands on Lake Michagan, as well as some underwater rolling footage. Great scenery shots.