We are in full go mode! Oop's I guess the rain didn't get the memo...

OK, OK, so we were a little wet today and had to cancel the planned trips. The rest of the weekend is going to be clear and sunny!

OCT 6, 2012
Important Information for registered Paddlers.Last minute information.
OCT 1, 2012
Event Registration by mail is closed.
If you are joining us for the Paddlers Rendezvous 2012 and have not yet sent in your registration yet please follow these instructions.
1. Download the Registration Pack , fill it out and e-mail the forms to ackc@clubkayak.com . Please print it out and also bring it with you to the registration desk when you arrive.
2. If you cannot email the registration forms then please do the following to help us plan for a successful event. E-mail the following information to ackc@clubkayak.com .
a. Names of all Paddlers attending.
b. paddling solo or tandem
c. day and trip selections (choice 1 and 2)
Sending us this information will help us plan ahead for trips.
We are having a record turnout for this event and our trips are filling up fast, so we are trying to provide for more opportunities to paddle your choices. Please be aware that with late registration we may have difficulty placing you in the trips you have selected. While our goal is to get everyone down the rivers and creeks they have selected it may not be possible for those who are registering late.
3. When you arrive please bring the registration forms with you to the Registration desk. Late registration fee is $20 per paddler and is due at sign in. We will work with you on your trip selections to fill in still "open" trips.
We are all looking forward to a great event. Hope to see you there.
Sept. 26, 2012
If you've registered for the 2012 Paddlers Rendezvous to be held October 18 - 21. The weather's cooling off and it's likely to be beautiful for our paddling adventures.
* Canoe and Paddle Raffle *
A very generous friend has donated a canoe and paddle to the ACKC. We are going to raffle it off at the Rendezvous and use the proceeds to help offset Rendezvous costs. It is a Laughing Loon Wee-Too cedar strip canoe, and what a gorgeous boat!
Tickets will be available at the registration desk until the Saturday night potluck and are being sold at $5 for one or $20 for five. The winning ticket will be drawn at the potluck. You must be present to win. ACKC officers are not eligible to participate. The donor believes the boat deserves more water time than it currently gets, and asks that whoever paddles the boat stops to help birds in distress.
Some useful information:
There will be a registration desk at the campground - plan to stop in fairly soon after your arrival. If you've ordered T-shirts you can pick them up when you register. All trips will leave from the campground and your trip leader will provide shuttle information and other necessary details. Please remember to bring the usual paddling gear (PFD, whistle, sunscreen and/or hat, water, food and/or snacks, etc.) There has been quite a bit of mosquito activity this year due to all the rain, so you should bring plenty of repellent for both camping and paddling. In keeping with low environmental impact goals, we are not providing disposable plates, cups, utensils, or other items for the potluck, so please remember to bring your own to the potluck.
We're looking forward to seeing you in October!
The Apalachee Canoe and Kayak Club
Sept. 23, 2012
We've added more trip directions on the "download Forms" page.
Sept. 19, 2012
Looks like it's going to be a great turnout this year, 100 plus and counting have sent in their registrations so far!
July 7, 2012
We have our shirt design for the event: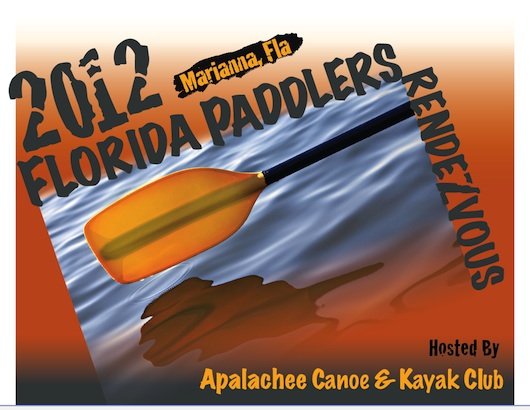 July 6, 2012:
Our club is based in Tallahassee, we will be hosting the Rendezvous from the Arrowhead Campground in Marianna, Florida. This location is more centrally located to the rivers we have planned.
The Arrowhead Campground is located on US 90 about a mile west of the intersection with SR 71 in Marianna. The campground sits on the banks of lovely, spring-fed Merritt' s Mill Pond and the waters spill over the dam and feed Spring Creek, a tributary of the Chipola River.
It's not too early to go ahead and reserve your campsite. We have negotiated special rates for the Rendezvous. Campsite costs for the event are as follows:

Tent sites $19.00/night, 2 tents allowed per campsite
.

RV sites $25.00/night, 1 RV per site.
According to their billboard, they have 200 campsites. Most of the RV sites are pull-through sites. The campground has a hot breakfast option available at the check-in area but there is limited seating.
Reservations may be made by calling ... Closed
Be sure and ask for the special Rendezvous rate .