October 7, 2012
Important Registered Paddlers information:

In a short period of time, we will meet in Mariana for the 2012 Florida Paddlers' Rendezvous (October 18-21). We are excited about sponsoring this event, meeting you, and paddling some of the beautiful streams and rivers that are in this area.

We have tried to give participants their first choices on scheduled events as often as possible. Some selections were so popular that we added additional trips. In order to accommodate the extra events, it is imperative that participants meet 30 minutes prior to the times noted on the website at the appointed location in the campground so that we can check everyone off the list, hand out maps, and discuss trip logistics. For example, if your event is scheduled for 8:30 am (Central Standard Time), you will need to get in line behind the designated ACKC trip leader at 8:00 am CST with boat(s) loaded and ready to go. Please carpool with others on the same trip where feasible. Meeting locations for each trip will be posted at the pavilion.

Please note that the campground, all Rendezvous events, and the surrounding area are in the Central Standard Time zone.

When you arrive, please stop by the pavilion as soon as possible where we will provide you with your registration packet and trip assignments. Raffle tickets will be available there as well. Participants will receive a brightly colored wristband verifying that they have registered. It is important that you put it on your wrist. Don't take it off! No one will be allowed to participate without a wristband.

Prior to each paddling event, please be sure that your vehicle is ready to go with a full tank of gas. Personal flotation devices (pfds) and whistles are required and Florida Fish & Wildlife officers often check paddlers to make sure they have them. We're asking all paddlers to wear their pfds during all Rendezvous paddling events.

Late October can be chilly and, in the event of a spill, it's a good idea to have an extra set of dry clothing in a secure dry bag. You'll also want to bring a lunch or snack, plenty of water, sun protection, insect repellant, rain gear, and a first aid kit. If you have any medical conditions, make sure you bring any medications, etc., with you. It's a good plan to paddle with a buddy who knows how to recognize your particular symptoms, where to find your medications and what to do in case you experience an emergency. It's also a good idea to tell your trip leaders about any assistance you might need before you get on the water.

In addition to gear and any personal items you will need on your trips, don't forget to bring a covered dish and a serving spoon for the potluck on Saturday evening. You might want to write your name on a piece of tape and stick it on the food container to make sure it is returned to you. To reduce the amount of garbage, please bring reusable plates, cups and utensils. Also, tables and chairs are limited so we would appreciate you bringing your own chair. Water will be provided; however, if you would like something different, please bring that as well.

Participants are encouraged to bring reusable water bottles rather than buying bottled water. As you know, EPA mandates that municipal water systems be tested on a regular basis so local water is a good choice, it is less expensive, and it means less plastic in our landfills.

On Friday evening, come join the group for a bonfire. On Saturday, there will be a potluck dinner at 6:30. After dinner, around 8:00, we will have a canoe raffle and then a featured speaker.

Our featured guest is local author and photographer Doug Alderson. Doug is largely responsible for the wonderful canoe trail maps available on the FDEP Office of Greenways and Trails website. Here's a brief preview of what he will discuss during his presentation:

A Journey Along Florida's Paddling Trails

Let the names of Florida's rivers and coastal waters roll off your tongue:

Ocklawaha, Chassahowitzka, Suwannee, Waccasassa, Aucilla, Wacissa, Sopchoppy, Withlachoochee, Loxahatchee, Homosassa, Pithlachascotee, Econfina, Kissimmee… If you've paddled these waters in a canoe or kayak, the Native American place names evoke winding streams and shaded hammocks, shimmering coastal waters and wild tree islands. Florida is made for paddling.

Author and photographer Doug Alderson will give a photographic overview of Florida's paddling streams and coast, from the mangrove labyrinth of the Ten Thousand Islands to the spring-fed Ichetucknee River. He'll also spin a few paddling yarns.

Doug Alderson is the author of nine books, including Wild Florida Waters, Waters Less Traveled, New Dawn for the Kissimmee River, and Encounters with Florida's Endangered Wildlife. He has won several state and national writing awards. He also coordinates paddling trails for the Florida Office of Greenways and Trails.
To learn more, log onto his website at
www.dougalderson.net.
Where ? Arrowhead Campground in Marianna, Florida.

The Arrowhead Campground is located on US 90 about a mile west of the intersection with SR 71 in Mariana. The campground sits on the banks of lovely, spring-fed Merritt 's Mill Pond and the waters spill over the dam and feed Spring Creek, a tributary of the Chipola River.

It's not too early to go ahead and reserve your campsite. We have negotiated special rates for the Rendezvous. Campsite costs for the event are as follows:

Tent sites $19.00/night, 2 tents allowed per campsite.
RV sites $25.00/night, 1 RV per site
.
According to their billboard, they have 200 campsites. Most of the RV sites are pull-through sites. The campground has a hot breakfast option available at the check-in area but there is limited seating.

Reservations may be made by calling (850) 526-7578.

Be sure and ask for the special Rendezvous rate.
We have heard that sometimes Arrowhead is telling people that they have plenty of sites and guests don't require a reservation. Please assure them that there may be as many as 100 campsites needed for the Rendezvous and insist that they take your name and phone number and assign you a site. They told us that they don't intend to ask for a credit card to hold these sites so don't be surprised at that. Please share this new information with all your members.
http://floridaparks.com/floridacampgrounds/arrowheadcampsitesinc.htm
I need a different place to stay ?
HotelsOne, Hotels in Marianna Florida
Trip Advisor, Marianna Florida Hotel Deals
Registration Fees ?
There will be a registration fee of $15.00 this year to cover insurance, access fees and supplies for the Rendezvous.

Children under 18 will be $5, someone not paddling will not be charged a fee.

($20.00 for Late Reg. 9-1-2012 and later)
Event Shirt ?
This year's shirt design, created by Maria Balingit, brings in the fall colors to the panhandle area for our event.
The shirts are SP0RT-TEK COMPETITOR TEES, a lightweight competitor tee with a roomy, athletic cut that controls sweat like a champ.

Full ordering details are included in the download registration packet.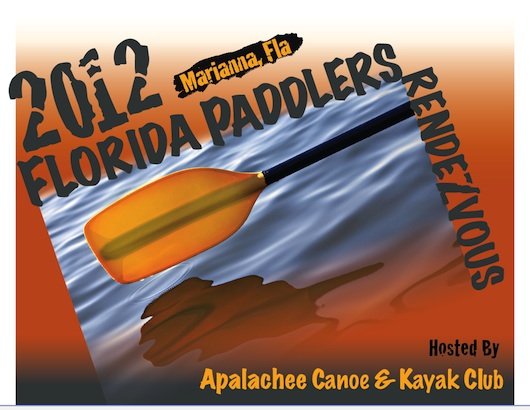 Specs: 3.8-ounce, 100% polyester, Removable tag for comfort and relabeling and double-needle sleeves and hem.
Swap shop ?
Saturday Night from 6-9 PM along with the dinner and meeting times we will host a swap shop. Bring all that gear you have laying around gathering dust or maybe a boat looking for a new home! We will have an item signup list posted for everyone's viewing pleasure.

Weather ?
Please remember that the Florida Panhandle can be cool in October so plan to bring a few warm clothes. It's always a good idea to carry a change of clothing in a secure dry bag just in case you take a tumble overboard.

Safety ?
We are asking participants to wear a personal flotation device on every paddling event.

Pets?
No pets are allowed on paddle trips. 


Contact campground for information regarding pets.
Apalachee Canoe & Kayak Club ?

For more information about the sponsoring club,
please visit us at http://www.clubkayak.com/ackc/