| | | | |
| --- | --- | --- | --- |
| Report By: | admin | Date: 12/8/2008 | |
| Rating: | | Photos: See 1 photo | Map & Directions: View |
| | |
| --- | --- |
| | This bike ride was along the Florida Keys Overseas Heritage Trail from Pennekamp State park to Key Largo Hammock Botanical State Park. |
My Report:
Pennekamp to Key Largo Hammock Bike Ride
February 23, 2008

This bike ride was a fitness event held for Step Up, Florida! Park Ranger and club member, Judy McGraw co-organized it with me and it was attended by several Paradise Pedalers and also park visitors and volunteers. After everyone met each other and signed in at the Pennekamp Visitor Center, we hit the trail!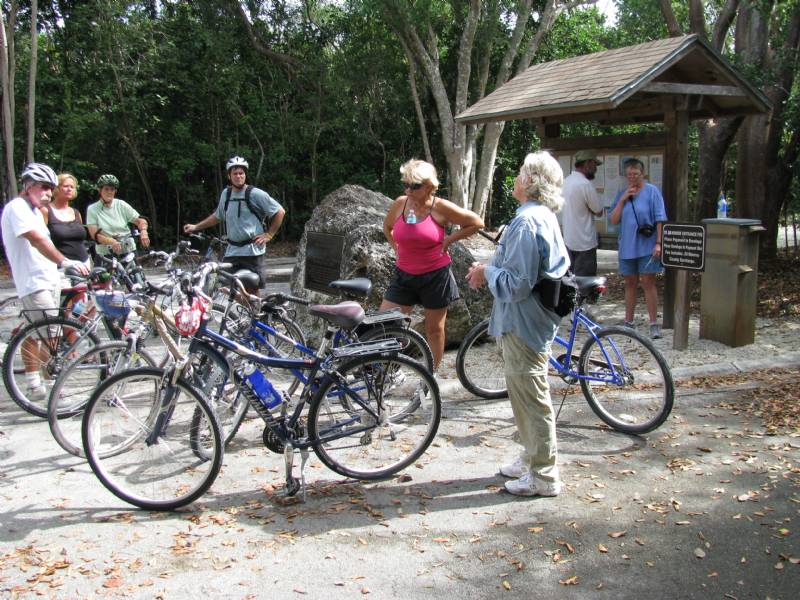 We rode north along US 1 from Mile Marker 102.5 to the end at 106.5. At Garden Cove Road, we turned right to avoid riding on Card Sound Road (County Rd 905) as much as possible and also to get a glimpse of the ocean at this popular paddling launch site. As the road winds around and becomes Loquat Drive, it hits Card Sound Rd. just 50 yards from the entrance to Key Largo Hammock.

The park entrance looks like the gate to a fancy development because that's what it was slated to become. Developers claimed that it would be bigger and more upscale than the Ocean Reef Club at the northern tip of Key Largo. But the community fought it in the late 70's and early 80's, led by environmental activist Dagny Johnson. The park was renamed in her honor in 2001 to: Dagny Johnson Key Largo Hammock Botanical State Preserve. She died in 2003.

The park is over 2000 acres, representing one of the largest tracts of West Indian tropical hardwood hammock and home to 84 protected species of plants and animals including the Key Largo woodrat & cotton mouse, the American crocodile, the Schauss swallowtail butterfly, the white crowned pigeon, wild cotton and mahogany mistletoe.

The first 1.5 miles of the trail are paved. Then it becomes about 6 miles of backcountry path. Judy led us into the backcountry and we stopped to "hike" to the top of Mount Fritz for a great view. This was created by fill when the boat basin was excavated.

Fortunately (or unfortunately for those of us who miss a little topography), the park is presently closed so that the hammock can be restored where development had taken place years ago. Mount Fritz was leveled to fill in the boat basin and fill from the 18-mile stretch road project is still being trucked in. What will not be missed are the creepy grafitti-sprayed ruins.

We ended our trip with a stop at Buzzard's Roost restaurant off of Garden Cove Road on our way back.

Monica Woll
monica.woll@dep.state.fl.us
12-8-08


Location Data:
| | |
| --- | --- |
| Distance (miles): | 10 |
| Fees/Costs $: | 1.50 |
Photos from Pennekamp to KL Hammock: (Click image to view full size)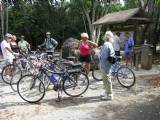 Ranger Judy McGraw talks to pedalers at Dagny Johnson Key Largo Hammock Botanical State Park
Special Interests and Comments:
| | |
| --- | --- |
| | This park may be a victim of budget cuts in the next fiscal year (which begins July 1) so visit it soon! |
Post Date: 12/8/2008
Notice: Reported conditions may change and there may be errors in this text. Paradise Paddlers and Pedalers and author(s) of individual reports shall not be held liable for any omissions and inaccuracies contained herein. Readers are cautioned to supplement reports with other sources of information when planning a trip.