| | | | |
| --- | --- | --- | --- |
| Report By: | admin | Date: 12/8/2008 | |
| Rating: | | Photos: See 1 photo | Map & Directions: View |
| | |
| --- | --- |
| | Cocoplum Beach in Marathon to the Grassy Key segment of the Florida Keys Overseas Heritage Trail. |
My Report:
Bike Ride along the Grassy Key section of the FKOHT
May 11, 2008

Coco Plum Beach is a great place to begin this bike ride as it has ample parking and a composting toilet. I was joined by club member Christine Clarke on this Sunday morning. She needed to train for an upcoming 100-mile bike ride on Long Island.


We rode 2 miles along the bike lane on Coco Plum Drive to US 1 and crossed to the bay side. From here you head north on the City of Marathon bike path to enter the Grassy Key segment of the FKOHT.

This is one of the nicest sections of completed FKOHT because it is entirely behind a vegetation buffer. Although the highway is a mere 20-30 feet away, it is so much more relaxing to have trees and vines between you and the cars speeding by.

This part of the trail actually goes through the "hammock" part of Curry Hammock State Park. The main entrance to the park is at MM 56.2 across US 1 on the ocean side. The campground and a nice picnic area on the beach is located on that side as well as a nice mangrove trail to paddle around Little Crawl Key, but this side has the park's namesake. The variety of vegetation is amazing.

Riding along this stretch of the FKOHT you will see a rest area with an interpretive sign, an artistic bike rack and a bench to rest on. The entrance to the nature trail thru the hammock to the bay is just north of this rest area. As you ride along there are also occasional peek thru water views to the bay and also a place to check out a quarry from the Flagler railroad construction.

At MM 58 the paved trail ends (but you culd ride a short distance on a dirt trail). At this point we turned around.

Monica Woll
monica.woll@dep.state.fl.us
12-08-08


Location Data:
| | |
| --- | --- |
| Distance (miles): | 12 |
| Fees/Costs $: | 0 |
Photos from Grassy Key: (Click image to view full size)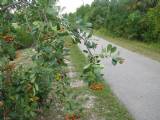 Bahama strongbark in fruit along the Grassy Key segment of the FKOHT
Post Date: 12/8/2008
Notice: Reported conditions may change and there may be errors in this text. Paradise Paddlers and Pedalers and author(s) of individual reports shall not be held liable for any omissions and inaccuracies contained herein. Readers are cautioned to supplement reports with other sources of information when planning a trip.