| | | | |
| --- | --- | --- | --- |
| Report By: | admin | Date: 12/9/2008 | |
| Rating: | | Photos: See 1 photo | Map & Directions: View |
| | |
| --- | --- |
| | The Saddlebunch segment of the Florida Keys Overseas Heritage Trail runs from Mile Marker 11-15. It is landscaped and has a kiosk and benches. It crosses 5 historic Flagler bridges. |
My Report:
Saddlebunch Trail Bike Ride
March 22, 2008

This trip was part of a pedal/paddle club event (see Geiger Creek trip report for the paddle portion). Blame it on the weather. Nobody showed up for the bike ride besides myself and 2 co-workers, Shelley Welch from our Key Largo office and Cristina Lindley from her Key West home office. It was sprinkling a bit but that didn't deter us. If we work for the trail, we need to get out and ride on it once in a while!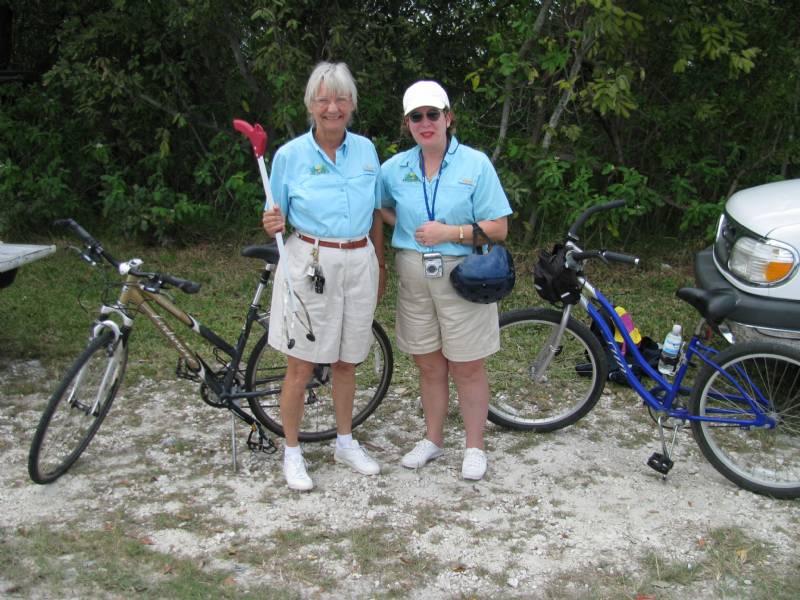 While waiting a bit to see if anyone was just running late... we cleaned up some litter on the trail. Cristina came armed with trash grabbers. We met George riding the opposite direction on his way to Key West. He was carrying some of his metal fish to sell. I guess you could call him a pedaling peddler!

Well, Cristina wished us good weather as Shelley and I headed up the trail towards Baby's Coffee, always a good detination or stopping point along the trail. If you aren't in the mood for coffee they also have a good selection of teas and juices and lots of gourmet goodies! And a clean bathroom.

This is a nice section of trail because it crosses the 4 historic Saddlebunch bridges which aren't used for fishing. So there is rarely any trash or obstructions. The views over the undeveloped shallow, mangrove-dotted waters are very serene. If the laws hadn't changed, this stretch surely would have been dredged and filled for development.

The sprinkles persisted and the wind picked up so after a couple bridge crossings we headed back to our cars.

Monica Woll
monica.woll@dep.state.fl.us


Location Data:
| | |
| --- | --- |
| Distance (miles): | 8 |
| Fees/Costs $: | 0 |
Photos from Saddlebunch Trail: (Click image to view full size)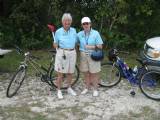 Cristina and Shelley on the Saddlebunch section of the Florida Keys Overseas Heritage Trail
Post Date: 12/9/2008
Notice: Reported conditions may change and there may be errors in this text. Paradise Paddlers and Pedalers and author(s) of individual reports shall not be held liable for any omissions and inaccuracies contained herein. Readers are cautioned to supplement reports with other sources of information when planning a trip.