| | | | |
| --- | --- | --- | --- |
| Report By: | admin | Date: 6/13/2009 | |
| Rating: | | Photos: See 1 photo | Map & Directions: View |
| | |
| --- | --- |
| | Paddlers are needed every year for the Swim(s) Around Key West to escort swimmers 12.5 miles around the island. |
My Report:
The FKCC Swim (Paddle) Around Key West 2009

This was my 4th time as a kayak escort for a swimmer in the Swim Around Key West. This used to be a single annual event but it recently split between 2 sponsors and is now put on by Bill Welzien and also by the Florida Keys Community College (both races are held in June). It is a great way to enjoy a circumnavigation of Key West and also help an athlete fulfill the challenge of completing this race.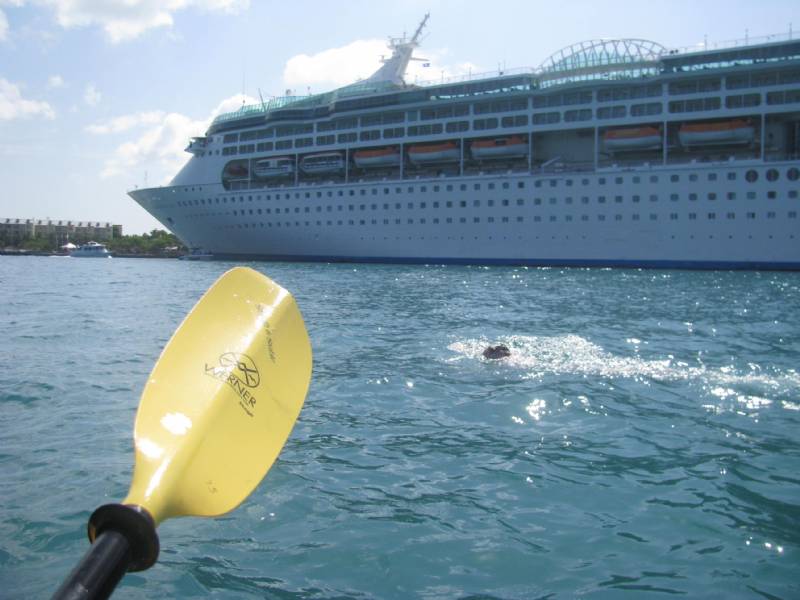 This year I paddled for Todd Paul from Alabama. Many swimmers recruit someone they know to escort them. In this case, we met each other at the pre-race meeting barely 12 hours before the race. I don't know which is worse... being the swimmer, already nervous about accomplishing a life goal, and wondering who this supposed kayaker is that could make or break his race? Or being the paddler, not knowing whether this person is prepared and can complete the challenge in a reasonable 4-6 hours or if it would take as long as 8-plus hours?

He seemed nice enough but almost too calm. He didn't have many questions for me so I asked him a few: did he have his liquids and food ready? what's the longest he ever swam? where are you staying? He put me at rest when he said he was using this as preparation for the English Channel which is over twice as long and a lot colder. So I figured he was a serious swimmer. But was he prepared for the warm water? Would he have a bad day? It seemed like I was more worried than he was...

I met him at the Southernmost Point Resort at the foot of Duval Street before the race along with his wife and parents. It's good to have a cheering squad. They planned to meet us at the Cow Key Channel. Dad gave me his watch, we exchanged phone numbers and away we went. The weather couldn't have been better - calm seas and not a cloud in the sky.

The first leg is around the point at Fort Zachary Taylor State Park and into the shipping Channels past the cruise ship dock and Mallory Square. The race is always timed with the tide so as soon as we approached the SW corner of the island I could feel the tug of the current. He did his first 3 miles in one hour. It was surreal to see him swim past the massive Carnival Cruise ship.

After passing the historic seaport, the race course turns right after the Coast Guard Key West Station into Fleming Cut, a virtual tidal funnel. Things should have gone "swimmingly" with the worst thing to happen being close encounters with pleasure boats heading out for a day on the water. All of a sudden though, I look over and see another swimmer next to Todd. No big deal, this happens in any race whether it be running, kayaking or biking. Racers usually jockey for their spot, apologize if necessary, and keep racing. Not this turkey!

He turns his head and shouts (in a British accent) "get out of my way!" I tried to ignore him but he continued with several more exclamations like "you're too close!" and "get away from me!" Each time he got progressively nastier. He then proceeds to splash me (how infantile)! I finally said, "look dude, I'm paddling next to my swimmer, I don't know what to tell you!" I look to my left and ask the nearest vessel (a pontoon boat) if this was their swimmer. When they said yes, I told them he was harrassing me. They didn't seem to care.

I go back to my job and he starts with the verbal threats again. I was just planning to ignore him (what else do you say to a psycho swimmer?) when he swam up to the bow of my kayak and shook it several times with all of his weight! Dealing with verbal threats was one thing (and kind of funny) but this was escalating into the DQ zone. It is not permissable to touch an escort boat. The fact that he was trying to flip me over went beyond that. I told his "peeps" that I was going to report him. I needed to get his race number in order to report him but didn't really want to ask them for it. All the while I'm wondering, do these people know this @$$h0/e or did they just meet their swimmer like I did? Maybe they were related? I concerned myself with the job at hand and waited until we were out of the channel to call the race director.

Finally the pontoon boat turned to reveal their swimmers number (#59) and I called to report him. I had to leave a message on the race director's answering machine since she didn't pick up. When my swimmer took his next drink break I told him what just happened to me. He said that the swimmer practially swam on top of him back in the channel. That was good information since I really didn't know how this whole incident had started.

I kept my eye on #59's yellow Speedo as we swam/paddled toward Dredgers Key. He got close to two other swimmers and their two female kayak escorts. I debated whether I should tell them or just watch to see what happened. I decided they deserved a heads up so I shouted over to them that the swimmer coming towards them had verbally harrassed me and also tried to tip my kayak. They were happy to get the advance warning and seemed to relish the news with a "bring it on" attitude. One of them even showed me her water pistol at the ready!

Sure enough, he started yelling at them. Now we were in wide water so there was absolutely no reason why he couldn't find his own space. His escort boat wasn't really doing their job as they were 100 yards away from him (maybe they didn't have that warm and fuzzy protective feeling for him). The kayak escorts picked up on that right away and yelled at them to either get closer to their swimmer or get him off the water. I added my 2 cents with "you might as well pick him up because I already reported him!" Again they ignored us. I even caught them aiding and abetting the cheater (unless they didn't know better) because I observed him twice hanging onto a pontoon while taking his breaks.

Thankfully we pulled away from the British hothead and rounded Dredgers Key, the halfway point. Unfortunately for Todd the tides they were a-changing. Poor planning on the race organizers part resulted in all the swimmers facing an opposing current in Cow Key Channel. Usually this only affects the swimmers at the back of the pack. Todd seemed to be swimming in place for about ten minutes before he figured out to get closer to the shoreline. He made it through but it took him about an hour to go one mile!

The last 3-mile leg along the southern shore of Key West was brutal. You have to stay off shore in order to swim around the White Street pier, a cement dock that locals refer to as the "unfinished road to Cuba." Paul first asked me to stay on his left to block the chop. But he kept veering toward shore and it was getting difficult corralling him back to the offshore course. So with his permission I switched to his right side. We got past the pier and the orange ball at the finish was visible to me but not to Todd. That must have been extremely disappointing. But I promised him it was there and he plugged away for the last half mile to touch the orange bouy and swim ashore 6 hours and about 40 minutes later.

This is a very leisurely paddle given that a swimmers pace is easy to keep up with and there are (almost always) tidal assists, but after so many hours out in the sun and the constant vigilance on your racer, it ends up being extremely exhausting! I really felt it the next day. Luckily I had the day off but I barely managed to get a load of laundry done and dinner cooked. The rest of the day I was in a semi-vegetative state! But it was fun and my swimmer did well (first in his age class). But I still don't know what happened to #59... the other paddlers also reported him so I will be extremely disappointed in the race organizers if they allow this spoil sport to get away with "tyranny on the shallow seas!" Go to http://www.fkccswimaroundkeywest.com/ if you want to check the race results, you have his number!

p.s. the Florida Keys community College race director DID NOT disqualify this cheater. Besides my report, they had the corroboration from the other kayak escorts. From now on, I will recommend kayaking for the other race, the original Swim Around Key West - go to http://www.swimaroundkeywest.com/


Location Data:
| | |
| --- | --- |
| Distance (miles): | 12.5 |
| Fees/Costs $: | n/a |
Photos from Key West Circumnavigation: (Click image to view full size)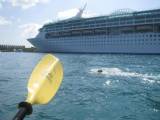 kayak escort and swimmer going around cruise ship in Key West
Post Date: 8/12/2009
Notice: Reported conditions may change and there may be errors in this text. Paradise Paddlers and Pedalers and author(s) of individual reports shall not be held liable for any omissions and inaccuracies contained herein. Readers are cautioned to supplement reports with other sources of information when planning a trip.