Rainbow River
The Rainbow Springs run is one of the largest spring runs in Florida. It averages a discharge of over 400 million gallons of water per day. The run is 5.7 miles long and joins the Withlacoochee River which is a black water river, near the town of Dunnellon. Unlike most other major spring runs in Florida the spring discharge comes from several vents that are scattered over the first mile of the run. It is characterized by a high level of submersed aquatic plants.
Ribbon or tape like plants are the most common. Its waters stay at 72 degrees Fahrenheit year round. Because of this and the high water quality it is a very popular recreational destination.

The Rainbow River is also known as Blue Run. Canoeists and kayakers must share the river with tubers, power boaters and an occasional Sheriff's patrol boat. Glass containers and other disposable litter may NOT be taken on these waters. Canoes may be rented at the Marion County K.P.Hole park on the west side of the river, and also at the State Park at the spring head and at the state campground on the east side about a mile down river from the spring.

Private Canoes and kayaks may be launched at the state campground and from the public boat ramp in Dunnellon at the Rt.41 bridge. Each boat is required to have a whistle and life jackets for each occupant. Remember the Sheriff? There are lots of birds to see along the way, and the occasional turtle and otter. Herons, egrets, eagle, duck, cormorant, anhinga (snakebird) are some of the more common sightings along it shores and nesting in the trees. While I didn't see any alligators on my trip up and back, there are signs cautioning against swimming indiscriminantly. The lower couple of miles has an almost continuous line of second homes / camps along the west side, but the east side very few. Truly a stretch of water worth spending a day on.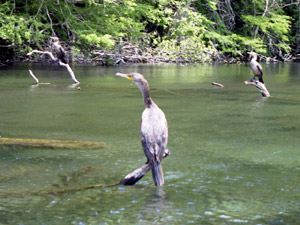 -Tom Williams, Tampa Bay Area, Florida USA
Press [Back] button on your browser to return to Contributed Trips.